In recent times, we have seen that everything around us is getting smarter day by day with the progression of technology. The ubiquitous demand among consumers is to make a product smarter and enhance the user experience. This can be done in multiple ways resulting in making the product more interactive and cognitive. Products could be also made smarter by the ease of use or making same product being used for wider applications. Embedded product designs give us the scope and flexibility of designing such smart products which we see around us. In this article, I would like to introduce the concept of "Smart switch panels" that can replace the traditional "electrical switch panels" which we see in our homes. Such smart switch panels can act as a building block of a smart home. We have already started hearing about smart cities and smart homes. If we speak about smart homes, there is a gamut of features which can make a home smarter. Energy management, home automation, security & surveillance are some of the features which could be attributed to a smart home.
The modular switch market in India is worth around USD500Mn. It is expected to grow at a CAGR* of 20% in the next five years. The size of the market is significant enough to accommodate more than a hundred different brands of modular switches.
There is a significant amount of innovation that one can expect in switch panels due to the advancement in the embedded design and technology. Some of the major features consumers can expect are integrating the control of a wide number of electrical appliances at a single access point. Fans and lights can be switched and regulated and window blinds can be flipped open by giving the control to the central panels. Integration of video door bells, occupancy sensors or the day light sensors are some other options. The innovation lies basically in conceptualizing and implementing such control features within these access points. There are many more such features which could be integrated with these smart switch panels.
There are three alternatives of electrical switch panels described below. These can be implemented using the knowledge & experience of embedded designs.
One of the ways is to replace these simple plain looking plastic switch panels with a touch screen panel. There are low cost ARM cortex core based MCUs which can drive a touch based TFT or an LCD screen. MCU manufacturing companies provide the complete graphical library which can be used to design the user interface. Embedded designers can use these libraries to design customized user interface. The user can set a background theme or the sliders and wheels of their choice as per their convenience. Such designs lead to a great amount of integration in controlling multiple appliances through a single access point.
For example, Texas Instruments has the TIVA series of MCUs based on Cortex M4 which can make the interface of a touch screen TFT / LCD possible for designers. The TI-RTOS makes it all the more easier for embedded designers to develop unique designs for different applications. Such touch screen panels can replace the switch panels not only within the residential market but also within the industrial segment. There can be certain challenges in the industrial environment but those can be taken care of by the capTIvate technology from Texas Instruments explained below. Also, as described above, there are multiple sensors like day light sensors, occupancy sensors, gas sensors, etc. which can be interfaced with such display panels. These cortex M4 controllers also offer an interface for USB / Ethernet. The designers can think of other applications which can be integrated due to possibility of being able to interface USB with the main microcontroller driving the display.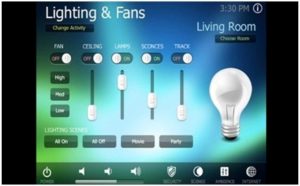 The second alternative for the electrical switch panels would be capacitive touch panels. There has been some recent breakthrough in the embedded products which can actually convert the traditional electrical switches in the panel into capacitive touch. The user can simply control the appliances within his home at the touch of his finger. Most of such touch applications require the product to be IEC 61000-4-6. Texas Instruments offers the most noise immune capacitive touch MCU which offers an IEC 61000-4-6 certified solution. The 3D gesture recognition feature in the Texas Instruments' capTIvate™ is even more fascinating. It allows a user to control the regulators and dimmers with the movement of his hand placed before the panel. The users do not need to touch the surface. The surface could be of glass / plastic or metal. The design of course, will have to be calibrated as per the sensitivity of the surface. Moreover capTIvate technology is integrated with Texas Instrument's FRAM based microcontrollers. The FRAM technology is helpful here due to its 1015 write cycles. The write endurance is much more compared to the flash based MCUs available in the market. This technology will help to increase the life of these panels.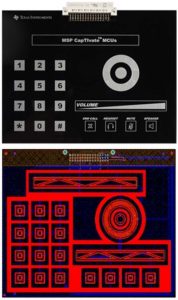 The capTIvate technology offers solutions which can comply with IEC compliances for EFT, common mode noise and ESD. It can even replace switch gears in industrial applications by using thick overlays with greater than 60mm thickness for glass and 25mm for plastics. This technology also offers an enhanced moisture rejection capability which makes it useful in outdoor applications where there is exposure to the environment. Embedded designers can use capTIvate design centers to design their products quickly. Typically working on touch based applications demands a lot of time from designers due to the need for manual tuning of the components.
The last and most exciting alternative for switch panels could be a smart phone or a tablet. Using mobile phones to control the appliances within your home is now, a possibility. The millennials are spending a considerable amount of time on their smart phones. The switching of your home appliances through your smart phones looks like a natural transition. We have seen some of the top semiconductor companies manufacture a System on Chip (SoC), which combines a microcontroller core with a radio transceiver. Such SoCs can be used to help appliances interact with a central control hub. These radio transceivers can range from a simple proprietary RF transceiver to a classic Bluetooth transceiver or a Wi-Fi transceiver. There are standalone radio-devices for Bluetooth and Wi-Fi also available which can be further interfaced with the microcontrollers.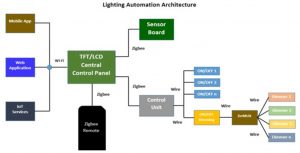 Texas Instruments' latest series of SoCs – the CC26xx SoCs have a Cortex M3 core combined with Bluetooth radio which offers ultra-low power performance. While the users are in their home premises, they can use a mobile application to control appliances by interacting with the devices via Bluetooth. Most of the mobile phones are equipped with BLE technology which although operates at a lower data rate, also helps to reduce the power dissipation of your phone. These data rates are good enough to send basic instructions like switching the appliance or regulating them. In case the user wants to control the appliance remotely, it could be done by integrating a Wi-Fi module which can access your home's Wi-Fi router. There can be a web application which is hosted on an active server that can be used to control the appliances.
In near future, we can expect to see smart electrical switch panels proliferating in the market. We have seen some very basic versions of such panels available today within the portfolio of electrical accessories manufacturers. The Government's electrification plan to reach more number of household in rural areas is one of the factors contributing to the >20% CAGR growth that is expected. The market leaders will look to compete with each other to grab more and more market share. There will be certain challenges to implement the above technology and roll out products, which can actually be commercialized. It makes good business sense for market leaders to invest in these technologies and form a presence in this niche category of modular switch business.