Edge computing supplements the existing cloud paradigm by facilitating data processing closer to the data source, thereby enabling organizations to speed up decision-making. The edge computing market size is expected to grow from USD 36.5 billion in 2021 to USD 87.3 billion by 2026, at a Compound Annual Growth Rate (CAGR) of 19.0% during the forecast period. The COVID-19 pandemic has boosted field service solution adoption across industry verticals as the users move to leverage field service solutions advantages, such as expansions and less cost.
SiMa.ai is a machine learning company transforming the embedded edge market through high-performance compute at the lowest power. Initially focused on computer vision applications, the company's software-first approach simplifies ML integration and supports the broadest set of capabilities through a purpose-built MLSoC platform, enabling rapid adoption and creating the best of ease-of-use experience. SiMa.ai is led by technologists and business veterans and backed by a set of top investors committed to helping customers scale machine learning at the edge.
To dig deeper into the edge computing solutions, ML and the market growth, ELE Times Sub Editor and COrrespondent Mayank Vashisht had an insightful conversation with Krishna Rangasayee, Founder and CEO of SiMa.ai. Excerpts: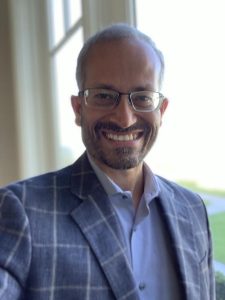 ELE Times: What is your view of the current state of the embedded edge market and how do you see machine learning impacting the market?
The embedded edge market is a $1T+ market that's been surviving on old technology for many decades. To a large extent, it's because it's a very fragmented market with a lot of different sub-markets. These markets tend to move at a slower rate and as a result, don't get attention from the semiconductor companies who are driven by fast revenue. SiMa.ai is poised to disrupt this massive market because of its software-first approach, ease of use, and purpose-built machine learning technology. These value propositions will enable these markets to benefit from new and emerging machine learning technology that is revolutionizing the industry.
ELE Times: How SiMa.ai is leading the charge to scale machine learning at the edge? 
Right from day one, we have been engaged with our customers asking, "What are your biggest challenges and how can we help?" Before we did any innovation or execution, we spent time listening to develop a deep understanding of our customers' system-level problems and needs. We learned that companies want to derive ML benefits without a steep learning curve, while simultaneously preserving their legacy IP and working in a very easy to use software environment. At the same time, companies are struggling to address power issues, especially when high-performance compute is required. These issues were critical gaps across almost every major customer we spoke to. This learning shaped our outlook and provided clarity on the computer vision system-based problems that needed to be solved at the edge. The collective learning from our customers helped us focus on solving complicated system-level problems with low power, a heterogenous-compute platform that simultaneously supports traditional computing with an ML environment, providing a seamless software experience for our customers.
SiMa.ai's approach is quite unique. Typically, when you look at semiconductor companies, they're all about silicon and adding more and more features. Of course, the silicon and the features are really important but it's actually the power and ease of use that is more important to most customers. SiMa.ai's software-first approach, which focuses on ease-of-use, will enable more customers to adopt the technology quickly. SiMa.ai's approach is centred on enabling that broad usage and getting to the power of the silicon technology through the software entry point.
ELE Times: What makes machine learning adoption so transformative for an enterprise?
The challenge facing the industry is data management and leveraging that data for the best decisions. Clearly, machine learning is now being leveraged in all markets as the technology of choice to manage data in a more efficient way. This is still early and will be the de facto technology that changes and reshapes how we manage data for better and quicker decisions. Every system in the world will have some element of machine learning in them over the next decade – this includes enterprise systems as well. Machine learning will reshape architectures, hardware and software systems and also reshape how we build, deploy, and manage these systems. Succinctly, we are living through one of the most transformative phases in technology deployment and are poised to change everything we know today.
ELE Times: In what ways has the Global catastrophe of Covid has led to the adoption of Machine Learning (ML) powered solutions across sectors?
 The issue of not having automated technologies for everyday use has been exacerbated by the COVID-19 pandemic, forcing all of us to adapt to a "new normal". No one predicted the ripple effect this pandemic would have on society as a whole and on technology in particular. Because of the pandemic, a completely new mindset has emerged on how people interact with the world in every facet of their lives at home, at work, and in society in general. The pandemic is accelerating large investments in technology and society eagerly awaits them. Companies and individuals alike have a heightened sense of urgency to embrace the innovations needed to transform our world to this new reality and quickly embark to upgrade our infrastructure and embedded edge products to address the necessary changes to make this happen. Machine learning technology is a key missing technology to help bridge the capability gap to address this massive market and service today's needs in many applications including robotics, industrial automation, autonomous systems, smart vision, and medical imaging.
The COVID-19 global pandemic has undoubtedly had one of the most significant impacts on the modern healthcare structure, accelerating the adoption of machine learning (ML) powered solutions. Whether ML can become a transformational force in healthcare depends heavily on the platforms on which these applications are deployed. SiMa.ai is developing an advanced machine learning platform that integrates high performance, security and low power capabilities targeted for ML-enabled computer vision workloads. This unique technology will be a key to the success of various healthcare applications. Specialized ML-powered embedded systems will promote a better patient experience by enabling the smooth processing of medical data, providing efficient power utilization and improved data security, and accelerating the adoption of automated healthcare. 
 What are your growth and expansion plans in the upcoming years?
SiMa.ai closed an $80M Series B round of financing in May 2021 and that will enable the company to productize its first-generation machine learning SoC (MLSoC™) platform, as well as jumpstart the second-generation product architecture and development. In addition, the investment will provide the capital to execute the company's go-to-market strategy, drive customer success, and expand the team and operations globally. In January 2021, the company announced the establishment of a new design center in India to support its growing engineering, systems applications and operations teams. SiMa.ai has been recognized as one of the top ML startups to watch due to its pioneering machine learning platform that provides a highly differentiated ease of use experience through its software-first approach and technology integration that delivers unprecedented performance at the lowest power. The company is actively partnering with market-leading customers in the areas of robotics, smart cities, autonomous vehicles, medical imaging, and the government sector.
Mayank Vashisht | Sub Editor | ELE Times