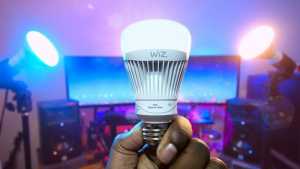 A small Hong Kong company is to be acquired by Signify, specializing in Wi-Fi for wireless lighting control technology. Signify, second time has proven to choose a technology other than the Bluetooth.
WiZ Connected and its 53 employees will join Signify, which will continue to work from Hong Kong and sell under the WiZ brand. WiZ is specialized in offering Wi-Fi based lighting controls for the consumer, professional, and OEM markets. Its products include hardware, software, and cloud connections for Internet of Things (IoT) schemes.
"We are very pleased to join forces with the teams of WiZ Connected who have developed a great technology platform enabling (us) to address a larger customer base in the growing market of Wi-Fi based lighting," said Eric Rondolat, CEO, Signify. "It perfectly complements Signify's existing offers and will help us to continue to deliver an experience rich in light and intuitive in use for our customers."
The emphasis on Wi-Fi comes soon after Signify launched a training program to help electrical contractors learn about lighting controls based on another wireless technology, Zigbee.
Thus, Signify appears to be prioritizing Zigbee and Wi-Fi over Bluetooth Mesh, the protocol that was going to make strong inroads into smart lighting once the Bluetooth Special Interest Group finally ratified it after long deliberations over a year-and-a-half ago. The Bluetooth Mesh groundswell has yet to happen, although Bluetooth enthusiasts insist that 2019 will be the year of takeoff.
A Wi-Fi-induced light scene from WiZ, soon to join Signify's wireless smart lighting portfolio.
Although WiZ offers support for Bluetooth devices, the core of its technology is Wi-Fi.
Meanwhile, several other wireless technologies are also generally vying to challenge Bluetooth for adoption by the lighting industry. LEDs has recently detected an interest in the wireless technology from Tampere, Finland-based Wirepas, for instance.
One challenge that faces lighting vendors in general to is to make installation and commissioning of wireless systems as easy as advertised. When Signify launched its Zigbee training program last month, it served at least a tacit acknowledgment that smart wireless lighting has been more difficult than assumed.