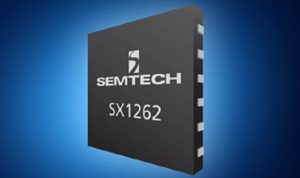 Mouser Electronics, Inc., the industry's leading New Product Introduction (NPI) distributor with the widest selection of semiconductors and electronic components, is now stocking the SX1261 and SX1262 LoRa transceivers from Semtech. Designed for extended battery life with just 4.2 mA of active receive current consumption, the SX126x sub-GHz radio transceivers are ideal for long-range RF wireless applications and are fully compliant with the physical layer requirements of the LoRaWAN specification released by the LoRa Alliance.
The Semtech SX1261x transceivers, available from Mouser Electronics, support LoRa modulation for low power wide-area network (LPWAN) applications, as well as (G)FSK/MSK modulation for legacy applications, and include a new spreading factor of SF5 for dense networks. The SX1261 can transmit up to +15 dBm, and the SX1262 can transmit up to +22 dBm with highly efficient integrated power amplifiers.
The SX1261x devices expand network coverage while reducing the receive-mode power consumption to just 4.5 mA — 50 percent less than the previous generation. This capability not only extends the battery life of the LoRa-based sensors by up to 30 percent, but it also opens up many new uses for improved connectivity with Internet of Things (IoT) sensor applications.
The devices offer global continuous frequency coverage from 150 to 960 MHz, covering all major sub-GHz ISM bands. Both radio devices are suitable for systems targeting compliance with radio regulations including but not limited to ETSI EN 300 220, FCC CFR 47 Part 15, China regulatory requirements, and the Japanese ARIB T-108. The SX1262 transceiver is supported by the SX1262DVK1CAS Development Kit, also available from Mouser.
Semtech's SX1261 and SX1262 LoRa transceivers are now available in a compact 4 mm × 4 mm package that is 45 percent smaller than the current generation. The devices are ideal for a variety of IoT and wireless applications, including smart meters, agricultural sensors, asset tracking, building automation, streetlights, safety and security sensors, healthcare, and robotics.
To learn more, visit mouser.com.