At IFAT, the world's leading trade fair for waste water, waste and raw materials management, from 14 to 18 May 2018, everything revolves around sustainable environmental technologies. NORD DRIVESYSTEMS will also be present at this industry meeting place in Munich and will be exhibiting intelligent drive technology, new products, energy-efficient solutions as well as a comprehensive range of service and maintenance offers.
Intelligent drive solutions
On stand 314 in Hall A1, visitors can obtain information about networked, autonomous and scalable drives from NORD. The decentralised drive systems form master-slave groups which intelligently communicate with each other so that they can autonomously monitor and control particular sections of plant. For example, if a blockage occurs, this is detected and automatically remedied if possible. If this is not possible, the blockage is reported to the central control unit and a networked replacement drive is started.
Predictive Maintenance
Through integration of the PLC into the frequency inverter, NORD drive units can record the drive and application data and evaluate all of the available sensor and actuator data as the basis for condition monitoring. Together with the customer, NORD can also develop predictive maintenance solutions for predictable and therefore plannable maintenance of the drive units. The objective of these algorithms is to reduce unscheduled downtimes, lower service and maintenance costs and to increase the service life of the drive unit.
Energy efficient drive technology
The powerful, energy-saving NORD motors have high efficiencies and therefore enable significant savings in operating costs. In particular, IE4 synchronous motors meet the most stringent efficiency regulations– including in the partial load and low speed ranges, thanks to PMSM technology. NORD frequency inverters also ensure energy-efficient operation. They are equipped with energy-saving functions and can automatically adapt motor powers to the actual requirements in case of fluctuating loads.
NORDBLOC.1 single-stage helical gear unit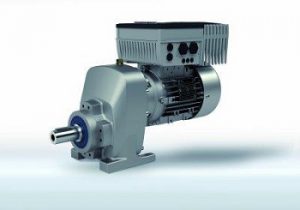 The new NORDBLOC.1 single-stage helical gear units feature ultimate efficiency, high torsional rigidity, low running noise and long service life. In addition, they also meet even the most stringent hygiene requirements thanks to their wash-down design. They are therefore a reliable, durable and economical drive solution for pumps, mixers and fans, as well as for material handling applications.
Extension of the industrial gear unit series
NORD DRIVESYSTEMS has extended its MAXXDRIVETM industrial gear unit series: Two additional sizes (rated torques from 15 kNm and 20 kNm) as well as extruder flanges supplement the modular series and provide new solutions for heavy duty applications. On the basis of the industrial gear unit, NORD plans complete drive systems for heavy duty operation with motors and drive electronics, for tasks including conveyor technology, pumps and agitators.
Services ensure preservation of value and availability
To ensure maximum availability, regular, preventative service and maintenance of the drive solutions which are used is essential. NORD offers an extensive, modular service concept. Depending on their requirements, operators can select various services, which range from assistance in commissioning, specific maintenance packages, and on-site analysis to estimate repair costs.