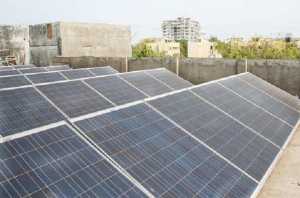 Solar power tariffs, in the latest auction have risen by more than one rupee above the record low of Rs 2.44 per unit, which industry insiders say reflected the bidders' concern about land acquisition in Uttar Pradesh, which offered the projects, and doubts about getting timely payments from utilities in the state.
Winning tariffs rose to Rs 3.48-3.55 per unit in the latest solar auction for 1000 MW held by the Uttar Pradesh New and Renewable Energy Development Agency (Upneda) on Tuesday. This is the highest winning tariff in recent solar auctions.
Last month's solar auction of 275 MW in UP, conducted by Solar Energy Corporation of India (SECI), had seen a winning bid of Rs 3.32 per unit.
Upneda distributed the location of projects in the recent auction across different parts of the state, allowing no more than 50 MW at any particular spot, thus leading to the variation in winning tariffs. The biggest overall winner was Acme Solar, which got 300 MW, half the amount at Rs 3.48 per unit and the other half at Rs 3.55 per unit; followed by Adani Group, owned Mahoba Solar, which got 250 MW at Rs 3.48 per unit; and Azure Power, which got 160 MW at Rs 3.55 per unit.
"Acquiring land and completing projects are difficult in UP, and the tariffs are a reflection of this," said Vinay Rustagi, managing director of solar consultancy Bridge To India. The tariff is even higher this time because Upneda conducted the auction and not a Central government agency like SECI. "Payments from UP discoms are also a problem, and their ratings are poor," said Rustagi. "The state also has a reputation for renegotiating solar tariffs", he added.
He was referring to a face-off between UP's power regulator and developers in mid-2017 when the former sought to force developers who won bids in an earlier auction in 2015 to lower their tariffs to match that of the lowest bidder, well after power purchase agreements had been signed.
Solar tariffs hit an all-time low of Rs 2.44 per unit for the first time at a 500 MW SECI-conducted auction in Rajasthan in May 2017 and once again at a 2000 MW auction by SECI last week, which was location agnostic. But they have been higher at other auctions, due to the frequently varying costs of solar modules used, most of which are imported from China,  as well as the threat of safeguard duty hanging over such imports. The Directorate General of Trade Practices is examining whether such imports are hurting the local solar manufacturing industry and if such duty is warranted.