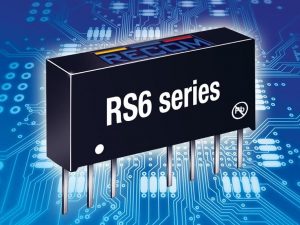 Recom's new regulated 6 Watt DC/DC converter, RS6 series is developed specifically for applications with high-power density in extremely compact installation space; the series supply 2.7W per cm³, and will operate at full load even at extreme temperature range from -40°C to +75°C.
The new DC/DC converters with 2:1 input voltage range at nominal voltages of 5, 12, 24 and 48VDC are pin-compatible with the RSO, RS and RS3 models for easy power upgrading without altering the circuit board; ±5, ±12 and ±15VDC dual-output versions are also available alongside the 3.3, 5, 12 and 15VDC single-output versions. A trim pin allows accurate matching between output voltage and load requirement. The converters are housed in a compact SIP8 housing measuring just 21.8 x 9.2 x 11.1 mm. Typically, converters' efficiencies are defined at full load because this is where they achieve the best performance. However, at low loads, their efficiencies dramatically decrease. This is not the case for the RS6 – at full load, an excellent efficiency of 88% is achieved. Additionally, even at 30% load, the efficiency remains at 80%. The converters are permanently protected against overload and short circuit, feature a TTL-compatible control pin, and do not require a minimum load to operate. All modules are certified to EN 62368-1 CB Scheme and IEC/EN 60950-1, and come with a three-year warranty in accordance with RECOM warranty policy.
Click www.recom-power.com for detailed information.