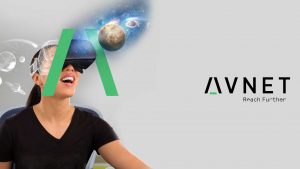 Highlighting its ongoing mission to help customers navigate an ever-changing technology landscape, Avnet on April 03, 2017, introduced "Reach Further," its new global branding campaign. Reach Further reflects Avnet's corporate transformation as well as the collaborative relationship with the company's customers in navigating the complex process of bringing new technology to the marketplace. The campaign launches with a cohesive marketing, digital and media strategy to introduce a new brand and visual identity which underscores Avnet's approach and commitment to helping customers reach further every day.
Today, hundreds of thousands of design engineers from start-ups to leading technology OEMs utilize the company's design and supply chain services and rely on its large volume, broad line distribution capabilities. In two simple words, Reach Further expresses how Avnet helps the smallest start-ups to the largest technology multinational corporations move swiftly and seamlessly from idea to design and from prototype to production.
"'Reach Further' is our promise that Avnet and each of our employees will do whatever it takes to guide customers and partners toward their most ambitious goals," said Avnet Chief Marketing Officer Kevin Sellers. "A brand is more than a marketing campaign, it is an authentic expression of the character and values of the company. The 'Reach Further' mantra reflects a solemn commitment Avnet is making to the makers, inventors, entrepreneurs, design engineers and suppliers."
Sellers added, "In our increasingly connected IoT world, and one where tools and capabilities for invention are becoming more readily accessible, this campaign presents us with an opportunity to distinguish how we uniquely help our customers navigate each stage of the product lifecycle. Avnet helps companies around the world realize technology's potential to transform business, and our new brand symbolizes our promise to help them reach further in pursuit of their highest aspirations."
A new look for a new company
Reach Further is the result of deep research on Avnet's key stakeholder audiences and aligns with the company's business strategy. Avnet's new logo replaces red with green to symbolize growth and possibility. The global campaign reflects the largest investment that Avnet has made in a marketing campaign during its 96-year history. It includes a focused mix of B2B print and digital advertising, paid and organic social media, digital display and video, and search engine marketing, as well as a new website and engagement program for Avnet's 15,000 employees around the world. Supporting activities include trade shows and events and corporate social responsibility programs to extend and build awareness.
The company's newly launched website has been designed to provide quick access to information through improved navigation and increased access to an expansive list of products and services. Users will have a consistent and simple experience across the site, whether they are researching new technology solutions or actively shopping for electronic components.