The IoT, 5G, medtech, smart cars, and other innovations have revolutionized contemporary life and will continue to do so as technology evolves. These new developments, however, have resulted in a growing demand for connectors that fit in tighter spaces, which in turn creates considerable design challenges.
Premo-Flex Cable Jumpers, part of the Molex Flexible Circuit Solutions product family, help overcome some of these challenges. By terminating to compact zero insertion force (ZIF)/low insertion force (LIF) connectors, or bypassing connectors altogether and terminating directly to the board, Premo-Flex can save space on the PCB and reduce the overall component count while also containing costs.
Premo-Flex cable assemblies are ideal for a wide range of applications, such as those in the consumer, medical, data communications, automotive, and industrial markets. Both standard and custom features are available to meet the specific needs of the most challenging designs. With a wide range of connector solutions, Premo-Flex delivers cable options that are ideal for most applications.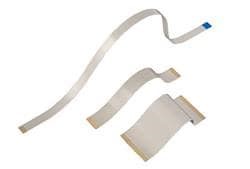 Choosing the right cable
With such a wide range of Premo-Flex products available, selecting the appropriate version for your design can seem a bit tricky. But we've made it easy to choose the perfect cable.
If you don't yet know which connector you'll use, or you're planning on bypassing the connector altogether, you can determine which Premo-Flex cable would be ideal for your application by answering the following questions:
How many circuits do you need on the cable?
2. What is the needed pitch size?
3. What plating is required on the terminals?
4. How long do you need the Premo-Flex cable to be?
5. Does your design require a static or flex cable?
6. What type of contact layout do you need – on the opposite or the same sides?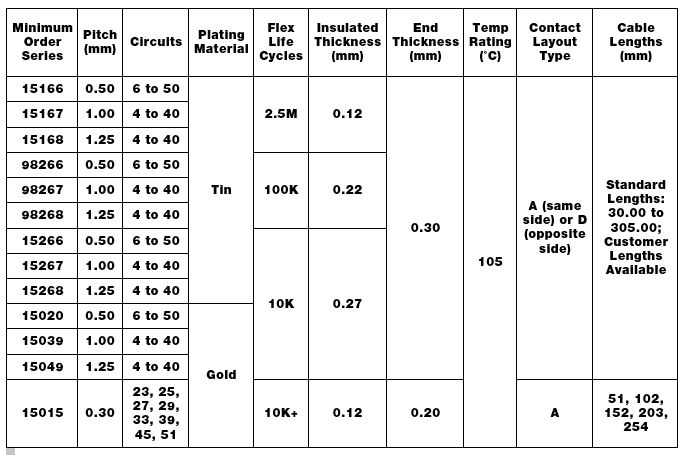 By referring to the chart below, you can quickly determine the cable series number that's appropriate for your design.
Next, enter the appropriate series number in the "search" function on the Arrow website (see the top of this page), and filter for Molex in-stock products. The results will show the circuit count and cable length options available for that type of Premo-Flex product.
Here's an example: Say you need a 10-circuit cable with the attributes that match Premo-Flex series number 15166 (0.50mm pitch, tin plating, 2.5M flex life cycle, etc.).
From anywhere on Arrow.com, use the top search bar and search for that series number:

2. Filter for Molex in-stock parts:

3. Then scroll to find the version with 10 circuits and a 0.102m length: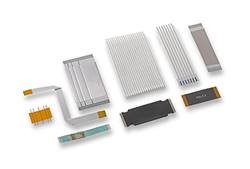 Custom options
If your design requires specialized attributes, Molex can customize its standard Premo-Flex products. In addition to specific lengths, EMI shielding, folding, stiffeners, and jacketing color, our custom options include round flat cables (RFCs) and hot-bar soldering versions that terminate directly to the board (bypassing connectors) and hybrid options with direct-to-board termination on one end and connector termination on the other.
Premo-Flex Cable Assemblies
As a leading connector manufacturer, Molex couples an extensive ZIF/LIF portfolio with its Premo-Flex offering to be your one-stop source for all your one-to-one connectivity solutions. Premo-Flex Cable Jumper assemblies, produced in ISO-certified plants that are located globally, deliver reliable and qualified flat flexible connectivity.
Molex's Premo-Flex capabilities include:
Quick-turn samples and fast production capabilities
On-site engineering expertise
Reliability testing
Free samples
To find your compact flexible circuit solution today, search on Arrow's website for "Premo-Flex" or a Premo-Flex series number from the table provided above.