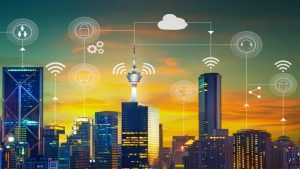 India Electronics and Semiconductor Association (IESA), along with, The Indus Entrepreneurs (TiE, Bangalore), will host the third edition of premier IoT event, IoTNext in the city. The Global Summit will focus on the opportunities and challenges from practitioners' viewpoint, learning from the pilots and challenges moving forward. IoTNext will deep dive into market verticals and horizontal enabling technologies while exploring fresh thinking, breakthroughs and leapfrogging that India could do moving forward. The two day summit will be held on November 8th and 9th, 2017 at Park Plaza, Bengaluru.
In the last 2 years, IoTNext has grown both in both quality and number of participants and has turned out to be a 'Must Attend' event by IoT practitioners and enthusiasts making it the top IoT event in India. IoTNext 2015 focused on the emerging possibilities of Digital Transformation with Internet of Things (IoT). IoTNext 2016 focused on the realities on the ground, the ongoing pilots, going beyond just connected devices and highlighting the edge node security concerns in partnership with the CISO platform.
Beyond the Hype: Pilots to Scale is the theme for this year's Summit, which will have focused sessions on IoT Analytics & AI; Transportation, E-mobility & Logistic; IoT Security and Industrial IoT followed by IoTNext awards and HACKFEST session.
Contextual data based on ambient knowledge is transforming and optimizing all facets of life, be it self-driving car, self-optimizing supply chain or a completely automated factory. The focus for this year's summit would be to highlight the impact of data analytics and AI on physical world IoT data involving both cloud and edge analytics. IoT and cybersecurity threats are growing exponentially globally. The security task force of IoTForum has a new and fresh approach to IoT security which will be introduced at IoTNext 2017.
India's creaky logistics ecosystem which has been fueled recently by e-commerce has made rapid technology enablement to match demand and supply to improve efficiency and several well funded IoT startups have emerged. E-Mobility is chartering an aggressive course in many countries with India now on a national mission to go all electric vehicles by 2030. While consumers IoT has been the buzz topic for quite some time, the Industrial segment of IOT is starting to make a larger impact recently. Several industries are being transformed with IoT, business models are changing from capex to opex and Product-as-a-Service (PaaS) is the new business model today rather than just an equipment sale.
Speaking on the occasion, Dr Sandeep Garg, Interim President, IESA, said, "We do not see IoT as a disruption. It is rather an evolution towards higher productivity, efficiency and quality. We see the plethora of opportunities that it is presents. The Indian government has had a vison to make India a digitally enabled nation for which it is imperative for every individual, organization and industry body to have a complete shift in their mindsets and look beyond. Embracing IOT related digital transformation is a must now for any organization's improvement and more so for their own future existence."
"IoT will be one of the most important tools to make India a digitally empowered nation. Having the second largest start-up base and the highest rate of youth population, India certainly holds a strong position to leverage this wave and come up with innovative ways to become stronger as a nation. Further, with the support of the growing IoT ecosystem, the destination of making India the 'IoT Nation' is not that far." said Ravi Gururaj, President TiE-Bangalore.
The IoTNext awards, jointly organised by IESA &TiE Bangalore, is a competition recognizing and celebrating the most promising IoTstartups in India. All India-based local and global startups along with companies that do product development in India and have a direct/formal presence in India are eligible to participate. This year, the session will have 4 major nomination categories including; Safe Nation, AI/ML in IoT, New Age Mobility and Industrial IoT.
For further information on IoTNEXT 2017, please visit here