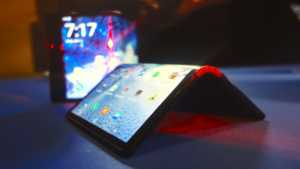 The continuous evolution of smartphones and computers have fostered the development of display technologies, with foldable displays emerging as the latest component of this landscape. Although curved displays had already gained traction among users through innovative TV screens, desktop monitors as well as phones with a curvy edge, experts predicted the next stage in this trend will follow soon enough.
Companies have always been found to have supported investments in a technology that can boost innovation and offer expansive design capabilities, since consumers seem to remain interested in buying new, never-before experienced products. Foldable displays, being seriously discussed as a potentially disruptive technology for future hand-held devices, are being explored by smartphone giants like LG, Samsung and Huawei to deliver revolutionary designs in the hands of users.
Apparently, a number of mobile phone and OLED manufacturers have filed patents for their flexible displays and novel device concepts. More recently, at the Mobile World Congress 2019, foldable devices caught the limelight amid the launch of numerous flat-display smartphones, with products like Samsung's Galaxy Fold and Huawei's Mate X showcased at the event. In the January of 2019, at CES, people were even able to try Royole's Flexpai, a flexible display phone developed by the Chinese start-up.
It can evidently be seen that folding tablets and smartphones would soon be arriving into the mainstream, supported by app developers and hardware manufacturers alike. A significant part of the success of these devices will certainly depend on the marketing and communication strategies of the sellers. Indicating an optimistic future demand for these devices, is the fact that foldable display market valuation will surpass $18 billion by 2025, claimed by Global Market Insights, Inc.
Will foldable displays have realistic applications in the future?
Technology enthusiasts have offered various reactions to foldable device concepts as well as actual devices exhibited at conferences. Citing possible challenges, they have pointed out issues like the bulkiness of the devices as compared to normal smartphones, no particular tasks that can only be expedited using a foldable tablet, and even the lack of compatible protective covers.
However, it must be remembered that there are innovations and technical advancements taking place consistently across the globe, spanning various industries and consumer applications. In fact, people have eventually found crucial uses for new technologies that initially face skepticism, and it is possible that foldable displays will follow a similar path. Today, smartphones and tablets are not only an important element of social life but also in the healthcare, manufacturing and financial segments where custom programs are integrated to accomplish daily operational and business tasks.
Foldable display tablets could gradually takeover the roles of present devices being deployed in the commercial and industrial surroundings, owing to some additional features and their increased flexibility. In common households, these could replace conventional tablets to accommodate specialized apps and facilitate compatibility with other devices. Foldable display laptops, surmised from Lenovo's concept designs, may provide considerably large screen area for gaming and online content streaming.
In essence, albeit existing doubts regarding the practicality of investing in folding smartphones and laptops, the adoption of these devices can be expected to rise in day-to-day applications over the next few years. Consumption of foldable displays will unquestionably witness an augmented growth if manufacturers are able to lower the cost of producing components like flexible OLEDs and chips, sensors and batteries specifically designed for flexible devices.
How can 5G technology boost the demand for foldable smartphones?
Telecom companies have assured that the benefits of 5G networks can soon be enjoyed by consumers globally, urging electronics manufacturers to develop 5G-compatible mobile and computer parts. The technology is slated to bring unprecedented internet speeds in homes and to smartphones, with trials claiming the networks to be nearly 100 times faster than 4G. Understandably, the advent of 5G will carry with it the capacity to perform a larger number tasks than what was possible on a single device over previous networks, due to enhanced capabilities of new phones and laptops.
Foldable display smartphones that have been demonstrated till now have all focused on screen continuity and multi-tasking performance. Users would be able to easily keep open more than one app in different parts of a screen, with cutting-edge processors allowing the speed and capacity needed to do so. 5G-ready chips and other components will increasingly be incorporated within upcoming foldable smartphones, which was affirmed by Samsung and Huawei as their soon-to-be-released devices would be available with 5G compatibility.
Consider the immense multi-tasking potential these products could offer to the consumers, who can utilize 5G speeds to download stuff, stream music, browse websites and even tweet without having to close either of the apps. Not every user in the world may require such capabilities on a daily basis, while many could have a personal and professional lifestyle necessitating these features. Regardless, 5G foldable display phones can attract all customers who desire the next-generation technology for diverse personal uses.
What are the technology partnerships leading the development of foldable display devices?
Samsung's Galaxy Fold has successfully piqued interest from consumers and industrialists from around the world as the first potential 5G foldable smartphone to be commercialized. The South Korean multinational, though, is ready to share its folding screen technology and has supposedly sent its displays to Google and Apple, two of its biggest rivals. Samsung already provided OLED screens for the iPhone and it was predictable that its innovative display tech would also be supplied to Apple, which has secured patents associated with foldable smartphones.
Google's partnership with Samsung on folding displays could also lead to foldable Pixel devices in the future, since it already has the experience of working on Galaxy Fold to support the phone's android compatibility. Separately, BOE Technology has developed its own flexible AMOLED display screens and has already teamed up with ten smartphone makers, including Oppo, Vivo, Huawei, Xiomi, ZTE as well as Nubia Tech. Oppo and Xiomi have already unveiled their respective foldable offerings, suggesting that BOE's displays are able to deliver the required flexibility and durability for foldable smartphones and other devices.
With a plethora of technology companies vying against one another to come up with the best range of foldable displays, the demand graph for this product is bound to depict an exponential curve in the years to come. As these products take over conventional devices and 5G gains mass precedence, foldable displays will come to be ranked among the most reliable products of the technology landscape. 
About the Author
Shikha Sinha is an active contributor on digital media outlets where she majorly reports, deciphers, and analyzes the impact of the technology realm on today's businesses.