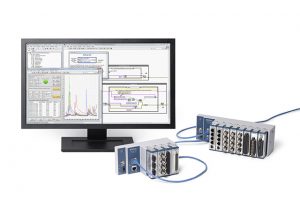 NI the provider of platform-based systems that enable engineers and scientists to solve the world's greatest engineering challenges, announced the release of two new multislot Ethernet chassis. The cDAQ-9185 and cDAQ-9189 introduce new time-based synchronization built on the latest Ethernet standards, furthering NI's efforts in Time Sensitive Networking (TSN) and rugged CompactDAQ hardware for distributed measurements.
The nature of physical systems test is rapidly changing as measurement systems migrate from the control room to closer to the device under test. While this shortens installation time, reduces the cost of sensor wiring and improves measurement accuracy, it creates challenges with synchronization and systems management, especially using today's industrial networking technologies. NI is actively working to help define TSN, the next evolution of the IEEE 802.1 Ethernet standard, to deliver distributed time synchronization, low latency and convergence of time critical and general networking traffic. The cDAQ-9185 and cDAQ-9189 provide tight time synchronization with TSN to simplify and improve scalability of synchronized, distributed systems. Features and benefits include:
Precise synchronized timing over the network, which eliminates the need for lengthy, physical timing cables and ensures tightly synchronized measurements for accurate analysis.
Simple daisy chaining through an integrated network switch for quick setup and expansion in distributed applications.
Reliable operation in harsh environments with -40° to 70° C operating temperature range, shock resistance up to 50 g and vibration resistance up to 5 g.
Software abstraction through the NI-DAQmx driver that automatically synchronizes multiple chassis for simple programming.