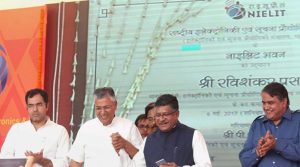 NIELIT centres across India are to impart Goods and Services Tax (GST) training, as directed by IT Minister Ravi Shankar Prasad on May 6, 2017. "NIELIT should be used for imparting GST training. If required, I will speak to (Finance Minister) Arun Jaitley on this," Prasad said at an inaugural function of NIELIT Bhawan.
MeitY runs around 30 NIELIT campuses and has around 10,000 franchises associated with it.  Minister of State for Electronics and IT PP Chaudhary has already written a letter to the Finance Ministry to impart GST training through NIELIT. "MeitY Secretary Aruna Sundararajan has also mandated NIELIT to make effort to provide GST training to traders and people who are interested in it, so that they are not made victim of any middlemen when this new tax system is rolled out," NIELIT Director General Ashwini Kumar Sharma said. He said that the NIELIT fund to impart GST training has to be allocated by Finance Ministry.
The Ministry of Electronics and IT (MeitY) has already started training entrepreneurs, who run common service centres in rural area. Sharma said that NIELIT has plans to expand its facility and mainly by using funds generated by itself.
The IT education arm of DeITY has registered a jump of about 175 percent in revenue for the last 5 years. "Our revenue has grown from Rs 112 crore in 2012 to about Rs 330 crore by the end of March 2017. Surplus, during the same period, has grown from Rs 12 crore to 62 crore. The NIELIT Bhawan has been built using our own fund of around Rs 50 crore. We have plans to set up new campuses," Sharma said.
NIELIT Bhawan has been completed in the span of less than two years. The foundation stone was laid by Prasad in May 2015. He said that NIELIT has plans to set up about 15 new campuses in Gujarat, Madhya Pradesh, Karnataka, Odisha and Uttarakhand. "NIELIT is like IIM of rural India. We are providing IT and electronics training at nominal course fee and now decided to provide certificate even for modules that a student completes. We have launched free online courses in which students will have to nominal fee of around Rs 500 if he wants a certificate," Sharma said.
During the event, Prasad also inaugurated online accreditation portal, which has the objective to reduce time and paper documentations for grant of accreditation to private training institutes. Besides, a new concept has also been introduced by NIELIT, whereby candidates shall now be awarded e-certificate on completion of a single module. Member of Parliament Parvesh Sahib Singh and MLA Devinder Sehrawat were also present at the event.