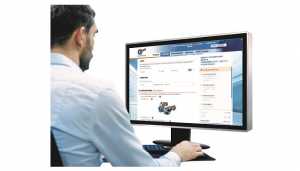 Customers are guided through the order process step-by-step. A wide range of search and sorting functions (e.g. motor power, output speed, output torque) facilitate selection of the optimal drive technology. Thanks to the plausibility check, the product configurator in the myNORD customer portal only shows options which match the requirements that have already been entered. Explanations of the configuration features can be displayed with information symbols. Online configuration and conformity checking of ATEX geared motors is also possible. There is also the option of configuring decentralised drive technology or control cabinet inverters.
Configure and order drive solutions online
All configuration steps are carried out on a single screen. All of the specifications which have been entered as well as the features which are still to be selected are clearly displayed in a box at the right hand side of the screen and are always in view. In addition, 3D models, outline drawings and dimensioned drawings can be generated for the configured drive solutions. Furthermore, customers can simply download the CAD data which has been created and integrate it directly into their CAD program. Even during configuration, all purchase prices are visible and on completion an offer can be called up and the order process triggered.
All orders, projects and documentation are in view at all times
All current and completed orders are clearly listed in the order tracking tool and can be easily filtered and sorted. Order and delivery status can be tracked in real time at all times. In addition, registered customers have the option of saving their configurations and utilising them for various purposes. Among other things, myNORD enables rapid specification of new variants from the known basis.
In the document centre the product documentation for the specific order can be downloaded in a wide variety of languages. Documents include operating and maintenance manuals or spare parts lists. The documents can be downloaded or conveniently forwarded as a link.
The team function enables joint access by all colleagues involved with drive technology within the company not only to the configurations, but also to all other available data.
myNORD: Simple. Convenient. Fast.
Quick and simple configuration, a user-friendly interface and intuitive menus, access to an overview of all relevant documents, rapid tracking of orders and consignments in real time as well as immediate generation of offers – in the myNORD customer portal customers can find the right drive solution almost with a single click. myNORD is available 24/7 and is the personal platform for cooperation with NORD.
For more information, visit: www.nord.com