At 34th Nepcon Japan, held on Jan.15-17, 2020 at Tokyo Big Sight, Japan, organized by Reed Exhibitions Japan, is a combination of Asia's leading exhibition for electronics manufacturing and R&D technologies and a grand conferences by electronics industry leaders from around the world.
The show was visited by over 67169 visitors. It received 2661 more visitors from 2019 edition. 1953 exhibitors from 26 countries showed a marvelous display of research and technology. With 140 Conference Speakers and 24323 attendees witnesses the knowledge hunger at the show.
With 34th Nepcon, a number of concurrent shows were organized. 12th Automotive World is the world's largest exhibition for advanced automotive technologies. Automotive World is a combination of exhibitions and conferences covering important topics in the automotive industry such as automotive electronics, connected car, autonomous driving, EV/HV/FCV, lightweight, processing technology and MaaS. As the exhibition has grown rapidly every year, now it welcomes a large number of exhibitors and visitors from all over the world! This time 38,992 people visited the show which is +1,332 more than 2019 Edition. 1,017 Exhibitors from 23 Countries participated in Automotive World.
Nepcon Japan gave an interesting perspective on what's happening in the automotive and R&D world, which may be likened to automated assembly line that dramatically changed the world in recently. Electrifying vehicles, connecting them, automating them, and changing the whole mobility experience, including shared mobility narrates the central theme of 'ELE Car'. It's going to fundamentally change how the industry thinks about itself, and how consumers think about the automobile industry.
We expect to have seamless, frictionless access to information at the touch of a button or at the utterance of a statement, we would expect a difference when we get into a vehicle, we express in exclamation – is that all possible? That's what the revolution is about. It's about changing the experience when you get on the inside of a vehicle.
Nepcon Japan introduced us a 300-mile battery electric vehicle with a completely re architected electrical ecosystem, a redesigned infotainment system, and a 17-inch screen enabled by a next generation AI-powered digital voice capability. It's got a whole new way of automating and assisting the driver with a next generation driver assist technology. All of that is being empowered and enabled by new ways of designing and bringing experiences to our customers.
We are in the platform driven era. In the platform driven era which is driven by the confluence of technologies that include data, AI, software, and connectivity, and harnessing that to delivering valued platform. Today's cars rely on connectivity. We believe that the solution for smart vehicles being connected to the rest of the smart world hinges on our ability to deploy at scale LTE-based Cellular V2X today and 5G tomorrow.
Today's R&D exercises will ultimately lead to an enabling of 5G in the sub-6 band for automotive use and for many other uses. The technology also points to the increased use of sensors in cars, particularly in the cabin. A lot of them have to do with what's happening inside of the vehicle, its occupant, how we make the good experience inside and how we bring digital world into our lives.
The reporter interacted with the following companies and listed the latest technologies displayed there:
Toshiba
TOSCANER-30900μC3 and TOSCANER-31300μC3 Micro-CT scanners: The TOSCANER-30000μC3 compact high-performance micro-CT scanner series incorporates a high-sensitivity X-ray detector, which makes it possible to capture high-contrast, high-resolution images of samples with low X-ray absorption (i.e., low specific gravity). Specification: Compact and high performance micro CT; Compact micro CT TOSCANER-30000μC3. Application: Rubber, Resin, Bone, Tooth, etc.
CKD Corporation/OMRON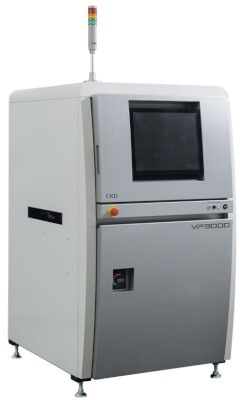 3D In-line Paste Inspection System VP9000: 3D SPI machine is designed to answer all the most difficult cases of Solder paste inspection. Its technology for the acquisition and measurement of screen printed volume guarantees reliability and repeatability of high quality.
In order to obtain the most accurate measurements, a wide choice of resolutions is available and the switch can be set by software within the inspection program. A new GUI and very sharp statistical analysis allow rapid and targeted improvement process. SPC station is now widely recognized as one of the most advanced Analysis software of the market giving all necessary data for the best process control and Traceability.
The new VP9000 can complete the loop 3D inspection of your process with the opportunity to correct the excesses of your screen printing process.
Features:
Unique concept of 3D measurement combined with 2D system
Wide choice of resolutions from 5um to 25um
Unique Multiple Resolution Switch Function
Automatic war page compensation with PCB warping display and output data function
Simulate how Cp/Cpk values and graphs change when changing the Spec threshold (USL/LSL).
Fast Programming
Most Advanced SPC software with detailed report function
Closed-loop function up and down-stream
Very low maintenance.
Xilinx
Xilinx Powering Advanced Sensing Technologies: Many new functions of next-generation cars, like driver assistance, require a greater need for the ability to perceive what's happening around the vehicle in all driving conditions. Xilinx is the ideal solution to handle these needs through flexible and re-programmable Automotive platforms. From distributed smart sensors and centralized multi-sensor fusion systems, to highly integrated domain controllers, developers can scale their device selection to meet specific processing needs and cost targets. The FPGAs and SoCs/MPSoCs as well as Versal ACAPs offer parallel processing and integration, which provides a flexible solution to meet various safety and design requirements for automotive systems.
Vishay
VCNL4030X01: VCNL4030X01 integrates a proximity sensor (PS), ambient light sensor (ALS), and a high power IRED into one small package. It incorporates photodiodes, amplifiers, and analog to digital converting circuits into a single chip by CMOS process. The 16-bit high resolution ALS for excellent sensing capabilities with sufficient selections to fulfill most applications whether dark or high transparency lens design. Both ALS and PS offer a programmable interrupt with individual high and low thresholds offers the power savings on the microcontroller.
Features:
Package type: surface-mount
Dimensions (L x W x H in mm): 4.0 x 2.36 x 0.75
AEC-Q101 qualified
Integrated modules: infrared emitter (IRED), ambient light sensor (ALS), proximity sensor (PS), and signal conditioning IC
Operates ALS and PS in parallel structure
FiltronTM technology adoption for robust background light cancellation
Low power consumption I2C (SMBus compatible) interface
Orderable in four different slave addresses
Output type: I2C bus (ALS / PS)
Operation voltage: 2.5 V to 3.6 V
Floor life: 168 h, MSL 3, according to J-STD-020
TDK
AFM-15 – Flip Chip Bonding system: TDK, an electronic supplier, has completely evaluated the production to find the needs of users and produced this high-reliable, space-saving, high-speed equipment for specific needs.
Excellent mounting tact time 0.75sec/chip (including 0.2sec process time)
Excellent mounting accuracy(±7μm/3σ)
Smallest Footprint(99m2 )
Low energy connection
12inch wafer capability
Option and Special Features: Magazine Loader/Unloader; Hepa-filter; Ionizer; Profile monitor (US, Load, Bump height); Chip tray supply; Map data (between bump bonder etc); Bond nozzle heater; Substrate (package) special clamp Bond; inspection (Pre , Post); Bond nozzle polishing jig; Ultrasonic horn (For large chip.
STMicroelectronics
ST's 8-bit microcontroller platform is implemented around a high-performance 8-bit core and a state-of-the-art set of peripherals. This platform is manufactured using an ST-proprietary 130 nm embedded non-volatile memory technology.
The STM8 allows fast and safe development through enhanced stack pointer operations, advanced addressing modes and new instructions. The STM8 platform supports four product series:
STM8S, mainstream MCUs
STM8L, ultra-low-power MCUs
STM8AFand
STM8AL, automotive MCUs
ROHM
The research group led by Associate Professor Hiroshi Fujimoto of the Graduate School of Frontier Sciences at the University of Tokyo developed a 3rd generation wireless in-wheel motor (WIWM-3) powered by electric energy from the road to WIWM and succeeded in a vehicle driving test with in-motion wireless charging. The WIWM-3 is an evolution of the 2nd generation wireless in-wheel motor (WIWM-2) announced in March 2017 and has greatly improved the wireless power transfer (WPT) performance, motor performance, and vehicle mountability for practical application. In order to further develop the technology, the group has also started research and development on tires and wheels that do not affect WPT performance.
Kyoritsu Electric India
Kyoritsu Electric India was established in India in 2008 as a 100% Subsidiary of Kyoritsu Electric Corporation & Kyoritsu Test System – JAPAN, for marketing, sales and after sales global support of their state-of-the-art PCBA In-Circuit Testers and Function testers manufactured in Shizouka, Japan.
Focus FXseries FX-950: Multi LED Lighting color inspection module
Features: FX 950 realize the real time judgement of chromaticity and brightness of lED on the SMT board which it is not easy to judge by human eye.Operator can understand the judgement results easily as they are displayed numerically and also shown in chromaticity table.
It is possible to inspect the high brightness now. It should provide to improve yield rate dramatically and not to release any defective products as it can judge the initial failure, lightning failure, Electrostatic breakdown accurately.
Specification:
Measurment Method: Fiber + Color sensor
Measurement item: Chromaticity measurement (Red / Green / Blue)
Intensity changeable function: 2 range intensity changeable (User can set the integration time)
Range: Wide dynamic range
The number of Measurement: 48 points each points individual measurements
Exposure: Changeable
Judgement: Chromaticity (x,y) Brightness
Optical Fiber: 1m Ω1.0 with both edge Ferrule
Control : Mini USB, RS232C compatible expandable port
Command: Operate by FX panel, individual serial communication
Dimension: 166 x 41.3 x 35mm (Beside optical Fiber)
Contact: N Y Patil, Managing Director, Kyoritsu Electric India, Email: sales@kyoritsuelectric.com
Omron
VT-X750: In-line full inspection coverage: The VT-X750 improves upon previoaus Omron 3D-CT technology making it the fastest X-Ray inspection system. The automated inspection logic has been improved for many parts such as IC heal fillets, stacked devices (PoP), through hole components, press-fit connectors, and other bottom terminated parts. Increasing automated inspection speed and expanding inspection logic enables full, in-line inspection coverage by 3D-CT method. OMRON's unique 3D-CT reconstruction algorithms provide excellent solder shape recognition and defect detection.
Quantitative analysis allows for an automated inspection process which minimizes the risk of escapes while providing fast and repeatable operation. The VT-X750 provides the shortest X-ray exposure time without sacrificing inspection image quality. To achieve "Zero down time" during the SMT production process, OMRON supports machine operation globally by preventative maintenance, emergency support and machine monitor with remote access.
SETfuse 
SETfuse is engaged in designing and manufacturing circuit protection components and providing integrated circuit protection solutions. SETfuse is specialized in the innovative protection fields of over temperature protection, Over Current Protection, Over Voltage Protection, Active Protection and Multiple Protection, helping customers to improve the safety index of their products.
SETfuse develops, manufactures and sells the products to the high reliability markets of Industry, electronic, new energy and so on. It offers industry – leading Thermal-link (TCO), Metal Oxide Varistor (MOV), Thermal Fuse and MOV (TFMOV), Surge Protection Device (SPD), Wire wound Fusing Resistor (RXF), Thermal-link and Fusing Resistor (TRXF), Current Fuse (Fuse), Ideal Thermal Fuse (iTCO) and Protective Unit for Adaptor (PUA).
Product Description: SETfuse's Organic Thermal-Link is a non-resettable protective device functioning one time only. It is widely used in electrical equipment. It is mainly consist of case lead, metal case, thermal pellet, compression spring, sliding contact, trip spring, ceramic bushing, isolated lead and epoxy seal. In normal operation, the isolated lead and the sliding contact are connected, when the Thermal-link senses abnormal heat and temperature reaches the predetermined fusing temperature, thermal pellet melts and the sliding contact with action of the trip spring separates from the isolated lead, thereby the circuit is disconnected. The organic Thermal-link's rated functioning temperature: (72 to 257) °C, rated current: 10A, 15A / 16A, Certificates: CCC, UL, cUL, VDE, KC, PSE, meeting RoHS, REACH and other environmental requirements.
Application: Home Appliances, Comfort Home Appliances, Personal Care Appliances, Commercial Appliances, Automobile, Contact:
Email: sahil.jain@setfuse.com
AiT Semiconductor
AiT Semiconductor is a leading Fabless IC Design Company, ISO9001 registered, devoted to design and maketing analog and mixed signal integrated circuits. The company provides the cost-effective and high -performed ICs for power management applications. AiT Semiconductor leverage AiT holdings manufacture – Inductor, Xtal and Fuse to provide Total-Solution to shorten customers design cycle.
AiT Semiconductor supply to world-wide OEM/ODM customers. Major markets is consumer, medical industrial and automotive sectors.
Contact: Email: india@ait-ic.com
Candera CGI Studio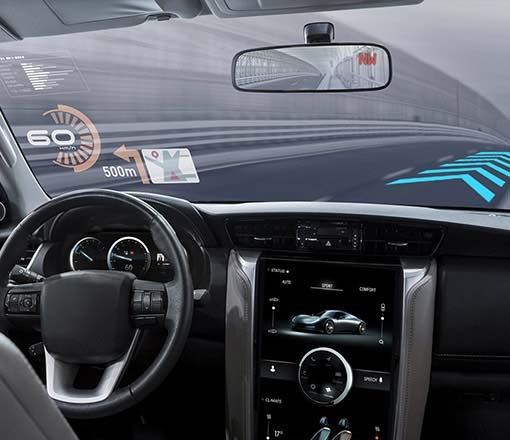 Candera, is a leading HMI tool provider and development partner for worldwide automotive
and industrial customers. It supports its customers with the CGI Studio tool environment as
well as provision of software services mainly in the areas of HMI development and embedded software. The company firmly realizes that designers have more and more influence in modern HMI creation. The goal of CGI Studio is to leverage designer's creativity by simplifying the composition process as far as possible. CGI Studio comes with ready-to-use HMI controls, automated workflows and integrated state machines enabling to display the logics with only a few clicks.
The special USP of CGI Studio lies in the user-friendly interface and the high performance representation of 2D / 3D display elements and animations. It provides features such as internationalization, sophisticated safety functions (ISO26262), a powerful set of advanced graphical effects and mixed reality features. All this is accomplished with one tool while still retaining the necessities of fast bootup time, small footprints and the critical automotive standards and regulations of ASIL, MISRA and SPICE.
The future will bring even more Human Machine Interfaces than today. Another
trend we observe is the growing application of Augmented reality within cars and other
vehicles. AR Headup displays allow a dynamic creation and adaption of situational visuals
that perfectly blend with real environment. This enables less driver distraction and higher
safety on the roads.
When it comes to Autonomous Driving, especially in the upcoming years there will be an
essential need for interaction between the automated vehicle and the driver inside.
Furthermore, HMIs will not only have to ensure a smooth and safe communication with the
driver but also a seamless synchronization between multiple displays and environments.
CGI Studio already includes all necessary features and workflows to meet todays and
tomorrows HMI requirements.
Product Description: Head-up displays, digital instrument clusters, infotainment systems and many more – the future will bring more graphical user interfaces than ever before. In fact, most of today's cars have already turned into mobile living rooms and offices and also nomadic devices like smartphones and tablets have found their way into vehicles. With HMI design tool ,CGI Studio support OEMs and TIERs worldwide to meet this growing demand and to create innovative graphical user interfaces like AR head-up displays, digital instrument clusters, infotainment systems and many more.