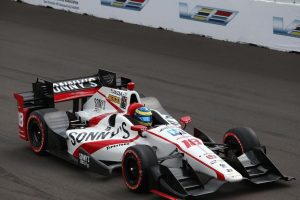 Coming off strong showings at the 101st running of the Indianapolis 500 and the Detroit Grand Prix, the Mouser-sponsored No. 18 car is being readied for the oval track at Texas Motor Speedway on June 10. Veteran IndyCar driver Trisatan Vautier will return to the Fort Worth track, substituting for Sebastien Bourdais, who was injured just days before the Indy 500.
Driver James Davison, called to fill in for the injured Sebastien Bourdais, put in an exciting performance at the Indy 500, where he became the first driver since 1980 to lead the race after starting in last position. Former Formula One driver Esteban Gutierrez made his IndyCar debut at the Detroit doubleheader, qualifying for a starting position of 19. Now the team has a quick turnaround to prepare for the Texas Motor Speedway, where Vautier has driven twice before.
"Both James and Esteban are incredibly talented drivers, taking on an unfamiliar car with little time for practice," said Todd McAtee, Mouser Electronics' Vice President, Americas Business Development. "Mouser is proud to support such a committed team. We are glad to see Sebastien recovering well, and look forward to seeing Tristan take to the TMS this weekend."
Bourdais was off to a great start this year, winning the opening race behind the wheel of the Mouser-backed No. 18 car at the Firestone Grand Prix of St. Petersburg on March 12. He was knocked out for the season by injuries he sustained in day one of the qualifying rounds at Indy.
Mouser Electronics is proud to team up with valued supplier Molex to sponsor the No. 18 car of the Dale Coyne Racing team in this 22nd year of the Verizon IndyCar Series. Mouser first sponsored IndyCar racing in 2011 as an inventive way to communicate its performance-driven business model and promote the newest technologies and how they affect the high-tech world of IndyCar racing. The Mouser- and the Molex-sponsored car won the Indianapolis 500 in 2013.
"Molex is proud to team up with Mouser to sponsor the No. 18 car," said Fred Bell, Vice President of Global Distribution for Molex. "Molex is committed to hard work and high performance just like this hard-charging team. We wish Tristan Vautier the very best of luck and Sebastien Bourdais a speedy recovery."
After the Texas race, eight races remain on the schedule, including the next stop at the Kohler Grand Prix in Elkhart Lake, Wis., June 25, followed by the Iowa Corn 300 on July 9, and the Honda Indy Toronto on July 16.