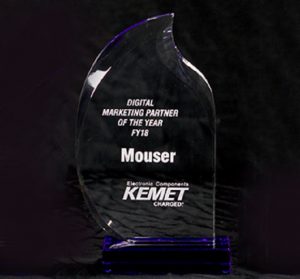 Mouser Electronics, Inc., the authorized global distributor with the newest semiconductors and electronic components, has been recognized as the 2017 Digital Marketing Partner of the Year by KEMET, a leading global manufacturer of electronic components with the broadest selection of capacitor technologies in the industry.
The major award — presented this year for the first time — recognizes Mouser's global distribution capabilities and digital marketing expertise. The Digital Marketing Partner of the Year award acknowledges Mouser's superior performance in a variety of areas, including e-marketing results, new product introductions, customer count growth and overall process excellence.
"Mouser has been a consistent and reliable partner for us for many years. We can rely on Mouser to deliver outstanding service to us and our customers," said Johnny Boan, KEMET Vice President, Global Distribution. "The KEMET Digital Marketing Partner of the Year award is presented to our overall best-performing partner. We are very excited to present this top award to the Mouser team and appreciate the commitment by all in the success of our partnership."
"We at Mouser sincerely thank KEMET for this important recognition," said Andy Kerr, Vice President of Supplier Management at Mouser Electronics. "Engineers rely on KEMET for the newest, innovative electronic components, and on Mouser to deliver these components with the exemplary customer service they deserve. We value our partnership with KEMET and look forward to many years of continued success."
KEMET Corporation offers customers the broadest selection of capacitor technologies in the industry, along with an expanding range of electromechanical devices, electromagnetic compatibility solutions and supercapacitors. To learn more about the wide range of KEMET products available at Mouser Electronics, visit mouser.com/Kemet-Electronics.