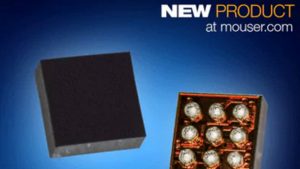 Mouser Electronics, Inc., is now offering the MAX17055 1-cell battery fuel gauge from Maxim Integrated. The ultra-low-power, standalone IC monitors a single-cell lithium battery pack and offers programmable alert functions for voltage, temperature, current, and state of charge (SOC) while consuming just 18µA in active mode and 7µA in hibernation mode.
The Maxim MAX17055 battery fuel gauge IC, available from Mouser Electronics, determines the amount of charge remaining in a battery and how much longer the battery can continue to provide useful power under the current load. The IC implements the Maxim ModelGauge m5 EZ algorithm, which eases implementation by eliminating battery characterization requirements and simplifying host interaction for configuration. It also provides tolerance against battery diversity for most lithium batteries and applications.
The MAX17055 IC automatically compensates for cell aging, temperature, and discharge rate, and provides accurate SOC in milliampere-hours (mAh) or percentage over a wide range of operating conditions. As the battery approaches the critical region near empty, the ModelGauge m5 EZ algorithm invokes a special error-correction mechanism that eliminates any error. The IC also provides three methods for reporting the age of the battery: reduction in capacity, increase in battery resistance, and cycle odometer.
The MAX17055 battery fuel gauge IC is supported by the MAX17055XEVKIT evaluation kit, which includes the Maxim DS91230+ USB interface, MAX17055 IC evaluation board, and RJ-11 connection cable. The MAX17055 IC is ideal for pack-side battery fuel gauges in smartphones, wearables and smartwatches, tablets, fitness monitors, wireless speakers, and other handheld devices.
To learn more, visit http://www.mouser.com/new/maxim-integrated/maxim-max17055-gauge/.