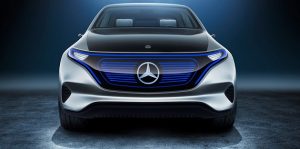 German luxury car maker Mercedes Benz plans to undertake a study to evaluate the market and infrastructure readiness in India before deciding on a strategy to introduce the right electric vehicles.
"When we see that the Indian government has plans for electrification by 2030, this means for us to investigate what would be the right products for India," Britta Seeger, member of the board, Daimler AG told.
"We need to see what this decision means for our local production and to evaluate to what extent we have to prepare our dealers for these changes," she said.
"This market research is ongoing. Depending on customer requirements and the potential of the market, we make a decision." said Ms Seeger, who is also responsible for marketing and sales at Mercedes-Benz Cars, on her maiden visit to India.
"Moreover, what we see from many other countries where electrification is already of high importance is that the infrastructure needs to be ready. This is not in our hands. However, these are the components we have to take into consideration," she added.
The comments come in the backdrop of the Centre, which is expected to soon bring a policy on electric vehicles, planning to shift from petrol and diesel-powered cars to electric vehicles by 2030.
Ms Seeger pointed out that Mercedes already had electrified models in its portfolio. "…we will, by 2022, make the entire portfolio electric. This means that we will offer our customers at least one electric alternative for every Mercedes model series. We are planning to have more than 50 electric vehicle variants in the market."
Depending on the region, development of the infrastructure and customer preferences, Mercedes-Benz expects 15-25% of its total sales to come from electric vehicles by 2025.
Asked if the Centre's target date of 2030 for all-electric fleet in the country was realistic, Ms Seeger said, "…it is not up to us to judge. Is there a chance that the infrastructure will be ready in time? This depends on the government's decision and that is out of our reach. It could go very fast if you really had strong investment plans behind it."
On India market, she said the company was "very satisfied" with the company's performance in the country. "If you look into the sales performance of Mercedes in India last year, we improved by 16% — that is a significant increase…In recent years, we even doubled our sales figures."
"All the important things are set up and are going in the right direction. There is a huge potential and the significance of the Indian market is still increasing for us. Therefore, all-in-all the set-up is very good for us. We truly believe in further growth in India," she added.