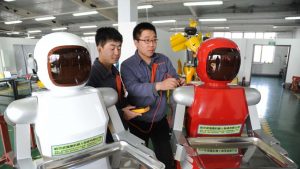 Chinese manufacturers are not well prepared to brace for the coming wave of digitalization to narrow the gap with advanced economies, McKinsey & Company suggest in a report.
McKinsey sent the warning when it launched a Digital Capability Centre at Tsinghua University, the fifth it has set up after ones in the United States, Germany, Italy, and Singapore, to facilitate the application of smart production and digital operation to reshape manufacturing.
As the world's factory, China produced 70 percent of mobile phones, 80 percent of air conditioners and 91 percent of personal computers, but its manufacturing productivity was still only a quarter of developed countries.
Manufacturing automation to drive China's robotics spending to US$59b by 2020, says IDC
Aiming to transfer the country from a manufacturing workshop to a leading innovator, Premier Li Keqiang launched "Made in China 2025" two years ago. It was China's version of "Industry 4.0" to join the global wave of the fourth major upheaval in modern manufacturing.
"Digitalisation is not just the purchase and installation of expansive, state-of-the-art automation equipment. Organizational structure, management talent, and mindset all matter", said Arthur Wang, a partner at McKinsey at a press conference on Friday.
The Chinese are actively engaged in hi-tech R&D, such as 3D printing, big data, and VR, but McKinsey noted in the report that most of the players are small start-ups or branches of research agencies, with the market still being dominated by multinationals.