Developers of portable devices now have an easier way to design in the most accurate and low power host-side battery gauges with the MAX17055 ModelGauge m5 from Maxim Integrated Products, Inc.
Traditionally, fuel gauges required extensive characterization of each battery type, used in specific applications, for attaining good performance. This meant the customer had to perform complicated battery characterization, adding weeks of time and resources to the design cycle. With the ModelGauge m5 EZ configuration of the MAX17055, battery characterization requirement is eliminated, shortening the customer's time to market.
One of the main benefits of a fuel gauge is that the system designer can use it to decide when to shut down the device when the battery gets low. If the fuel gauge overestimates the battery life, the shutdown might not happen before the voltage falls below the minimum operating point, resulting in an unexpected crash. Alternately, if the designer shuts down the system prematurely, then the run-time becomes shorter, which is highly undesirable for the user. By offering the industry's most accurate fuel gauge—within 1% state of charge (SOC) error for most cases—the MAX17055 allows the designer to plan for a shutdown that maximizes the device run-time.
The MAX17055 draws the industry's lowest quiescent current—just 7µA in the low power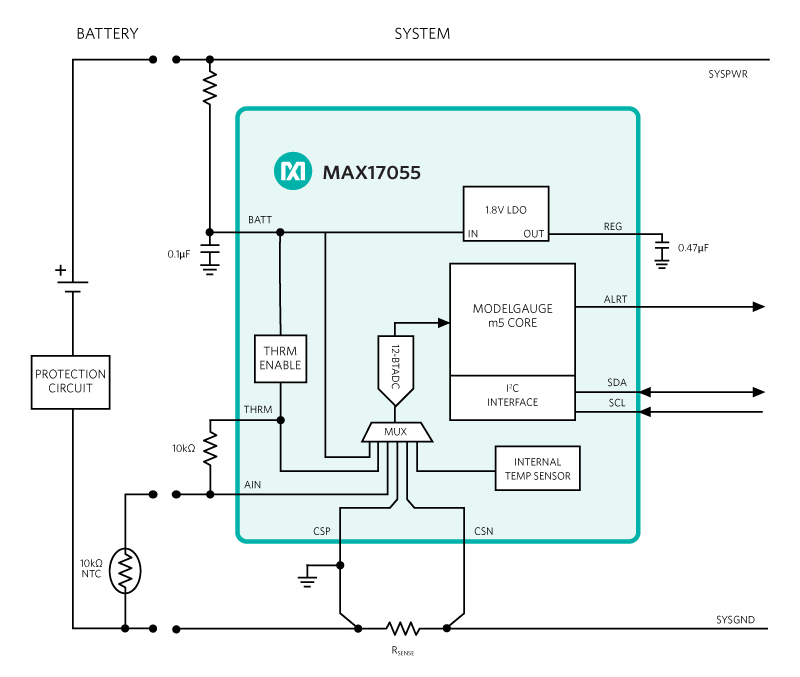 operating mode. It is available in a 1.4mm x 1.5mm WLP for space constrained applications. Unlike other gas gauges, the MAX17055 does not have a minimum battery size limit, making it ideal for wearables, smartwatches, smartphones, health and fitness monitors, body cameras, portable medical devices, hearables, drones, virtual reality gear, and USB Type-C portable devices.
Key Advantages
Highest accuracy:Within 1% SOC error in most scenarios for maximum run-time
Lowest quiescent current:18/7µA low-power operation prevents excessive energy loss
Easy to design-in: No battery characterization or calibration required with EZ configuration
Enhanced user experience:Easy to use and accurate time-to-empty and time-to-full information
Commentary
"Having shipped more than one billion fuel gauge devices, Maxim is continuously innovating to empower our customers to get the most energy from their batteries," said Bakul Damle, Mobile Power Business Management Director at Maxim Integrated. "Why get caught with bad battery management? Eliminate the risk by using the MAX17055, a host-side fuel gauge you can trust."

Availability and Pricing
MAX17055 is available from stock and priced at $1.08 (10,000-up, FOB USA)
MAX17055XEVKIT# is available from stock and priced at $66.00
All trademarks are the property of their respective owners.
Learn more at http://www.maximintegrated.com.
Video: https://www.maximintegrated.com/en/design/videos.html/vd_5293790072001/#popupmodal