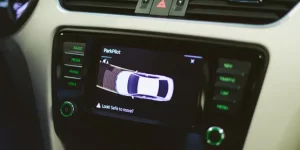 LiDAR (Light Detection and Ranging) can accurately measure distance and space, and has been widely used in autonomous driving, sweeping robots and some industrial applications. With the maturity of LiDAR technology and more competitive product prices, the market has developed quite rapidly. This article will show you the technical development of LiDAR and the reference design of LiDAR high-power laser diode and high-speed gate driver introduced by ROHM Semiconductor.
LiDAR drives the innovation of new services
LiDAR is an optical remote sensing technology, which measures the distance and other parameters of the target by irradiating a pulsed laser beam to the target. It has been applied in the automobile industry some time, and can be used to accurately measure the distance of objects and determine the space for autonomous driving, etc. In addition, it has developed rapidly in other application fields, such as sweeping robots and automated guided vehicles (AGVs). In such applications, LiDAR can be used to detect obstacles and calculate the forward route through algorithms. LiDAR is also used to capture traffic on highways in order to avoid traffic jams, and map data services based on 3D drawings.
Moreover, using the real-time point cloud data obtained by LiDAR combined with AI algorithm, object cognition and behavior prediction can be realized. The demand for important data and high precision obtained through LiDAR is increasing greatly. With the further improvement of LiDAR characteristics, the demands will not be restricted to the automobile market, but also industrial and infrastructure fields, and LiDAR expected to drive the innovation of new services.
Aimed at LiDAR and object detection application, in order to improve the accuracy of object position, the extension of object detection distance, the high refinement of object detection image and the accuracy of object detection algorithm, LiDAR sensor needs longer sensing ranger and high resolution as well as high-precision and high-power beam source. Therefore, it is necessary not only to improve the characteristics of laser diodes for luminescence, but also to drive laser diodes at faster speed and higher power.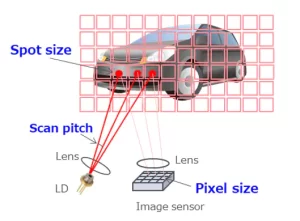 Laser source and high frequency drive technology
Currently, the image sensing technology combining CMOS image sensor and laser diode light source has been widely used in various fields. The characteristic of this technology is that it can measure the distance from the measured object and the shape of the measured object without touching. Innovation using LiDAR module for various robotic automation and autonomous driving purposes is great anticipated in industrial equipment and in-vehicle fields.
The distance data acquired by LiDAR module is usually called a "point cloud map" or "3D depth map", and each pixel of its image data stores the distance between LiDAR module and the measured object. Especially in the field of autonomous driving, it must be possible to cover a longer distance, so relevant manufacturers in the industry have made great efforts to develop point cloud image technology with higher resolution. The resolution of point cloud depends on the range that one pixel can cover, and the size of one pixel depends on the pixel size of photosensitive element, the scanning distance of laser beam and the size of laser beam spot.
Because LiDAR is suitable for a long range of more than tens of meters away, it is very important to reduce the divergence angle of the outgoing beam of the lens in order to improve its resolution. Therefore, a semiconductor laser with the smallest possible size and a lens with the longest focal length needs to be selected.
On the other hand, in LiDAR applications, GaN devices capable of high-frequency drive are most suitable because they can send narrow-pulse signals and build a higher-precision image system. GaN devices, one of the wide band gap semiconductors concerned together with SiC devices, can greatly reduce the on-resistance per unit area compared with previous Si semiconductors. In the same on-resistance products, the chip size can be reduced and the switching loss can be greatly reduced (about 65% compared with Si). SiC devices continue to evolve towards higher resistance voltage and greater power, while GaN devices develop towards higher frequency drive.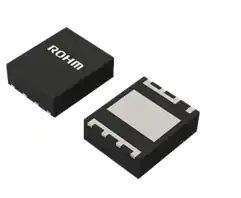 Key solutions for LiDAR applications
To cope with the growing market for LiDAR applications, ROHM offers solutions such as laser diodes, GaN HEMT (EcoGaN), and GaN gate drivers, etc., which are key parts for improving LiDAR characteristics.
ROHM has successfully developed a high-power laser diode with its own patented technology, which can obtain high-precision images. RLD90QZW3, as a 75W product, realizes the narrow luminous width of laser diode, which is reduced by 22% to 225µm compared with the competing product 290µm. It can realize high beam ability, narrow luminous area and high optical density, and can realize higher resolution and a wider detection range. In addition, the temperature dependence of laser wavelength is improved by 40% to 0.15nm/℃ compared with the competing products 0.25nm/℃, so narrow wavelength bandpass filters can be used for system design in a narrow wavelength range. This means that the signal-to-noise ratio (S/N ratio) is improved, so that objects with longer ranges can be accurately measured. Moreover, through ROHM's unique technology, PCE (Power-Optical Conversion Efficiency) also reaches the top 21% of the industry, which inhibits the increase of power consumption.
In automotive applications, it is necessary to further expand the ranging range, and there is a strong demand for semiconductor lasers with higher output power. Therefore, in addition to RLD90QZW3, ROHM also released RLD90QZW8 with 120W class, and its rated output optical power is 1.6 times that of RLD90QZW3. Generally, in order to increase the output light power, it is necessary to increase the light source size. The light source size of RLD90QZW8is about 1.2 times that of RLD90QZW3.
In in-vehicle applications, the ranging range is more than 100m, so it is necessary to select laser diodes with high output optical power, and at the same time, it is necessary for products to have optical design technology that can suppress the divergence angle of the beam emitted from the lens as small as possible. RLD90QZW8 is the first product in the industry with high output power of 120W and fast axis divergence angle of 20deg. In the future, ROHM will continue to give full play to the industry's ultra-high-level beam quality technology advantages, and contribute to innovation in the field of image sensing through high-quality laser diode products.
ROHM will use these advanced technologies to enhance the lineup of laser diodes used by LiDAR and lead the market trend of high power. In addition does to package products, ROHM also provides dies. Users can apply them to the development of multi-chip package modules, so they can design more characteristic LiDAR systems.
At present, ROHM has established the mass production system of GaN devices. Compared with competing products, the resistance voltage between gate-source has increased to 8V, and the margin of overshoot damage during switching action has also increased by about 30%, so it is a device that makes circuit design easy. In addition, the surface-mounted package with high heat dissipation is adopted, which makes it easier to mount. The structure of package parasitic inductance is reduced by 55% compared with that of the previous package, and the deterioration of characteristics is suppressed.
ROHM has started to provide samples of high-speed gate driver IC (BD2311NVX-C), which is an ideal choice for driving GaN HEMT. The BD2311NVX-C is a high-speed 1-channel gate driver optimized for GaN HEMT driving with a reduced output delay of 3.4 ns (Turn-on)/3.0 ns (Turn-off) on the input signal. As with EcoGaN, it is an easy-to-mount product due to the adoption of a surface-mounted package.
Gate driver solutions for GaN HEMT and GaN HEMT drives enable high-frequency driving, a feature of GaN HEMT. In addition to laser driving for LiDAR, they can also be applied to high-frequency DC/DC converters that utilize the features of GaN devices.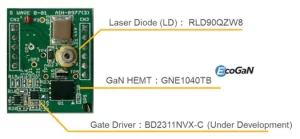 Complete laser-driven reference design
In order to speed up the product development of customers, ROHM developed REFLD002 reference design by combining laser diode, GaN HEMT (EcoGaN), gate driver for GaN driving and other devices that play a key role in laser driving.
Generally, GaN HEMT, which can be switched on and off at high speed, is used to drive LiDAR laser diodes, and is configured in a square wave or resonant wave circuit. The square wave circuit turns the switch connected in series to the laser diode connected to the power source on and off, but the rise/fall time is limited by the speed of the semiconductor switch and the loop inductance formed in the circuit. Although resonant wave circuits are common for high-frequency driving circuits, knowledge of high-frequency is required to design the circuit constants. At ROHM, we have developed and published a reference design for both circuits. The design data (circuit diagrams, PCB Gerber, BOM) and evaluation data are published, so users can refer to it and alter the reference designs freely. In addition, since the simulation circuit is published on the ROHM Solution Simulator, which is a free simulator available on the web, users can easily simulate both circuits. Since changes in waveform following circuit constants changes can be immediately confirmed, the simulator can be used for initial design studies.
In addition to the reference design data, application notes, simulation models (SPICE models, Ray data), and PCB library data for individual products are also available on the web. By utilizing the reference designs, reference design circuit simulations, and product data, design and evaluation man-hours can be drastically reduced, and the process of introducing products to the market can be accelerated.
REFLD002 is a reference design for high-power laser diode high-speed driving EcoGaN and high-speed gate driver for LiDAR. The reference design includes REFLD002-1 and REFLD002-2, which contain laser diodes, the key device in high-speed driving LiDAR applications, and high-speed gate driver (BD2311NVX-C) for driving the next generation device "EcoGaN" (GaN HEMT), including square wave and resonance circuits, which can be applied to ADAS LiDAR, industrial LiDAR, sweeping robot, automated guided vehicles (AGV) and other products.
Conclusion
With the increasing application and introduction of LiDAR in the future, ROHM has introduced a variety of solutions such as laser diodes, GaN HEMT (EcoGaN) and gate drivers for GaN driving, which are key parts for improving LiDAR characteristics. ROHM has introduced reference designs as design references to accelerate the market introduction process of products for users.