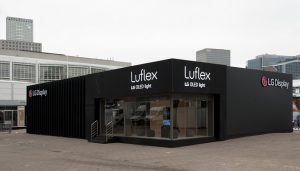 LG Display, the world's leading innovator of display technologies,  announced that it will showcase its latest OLED lighting advancements at Light+Building 2018 in Frankfurt, Germany, from March 18 to 23. With the cutting-edge OLED lighting products of Luflex, the newly launched brand for OLED light panels, the company will continue to lead the OLED lighting revolution by offering eye comfort and eye-catching design.
Under the theme of "infinite Light," LG Display will unveil various innovative OLED lighting products, emphasizing the limitless flexibility and infinite inspiration that they offer.
LG Display's Luflex OLED light panels, while enabling slim and unique designs with a thin and flexible form factor, provide soft and natural light with less blue light, thus reducing eye fatigue. Luflex is a portmanteau of the Latin word lux, which means light, and the English word flex, which not only refers to flexibility in physical form but also in application.
Most notably, Luflex panels can be twisted and rolled up to a 30mm radius of curvature without compromising any functionality. The panels' thickness of 0.41mm puts them in a league of their own when compared with traditional light sources, and they also offer design potential that is sure to set fire to creative imaginations.
LG Display will introduce its Crystal Sound OLED (CSO) Lights by extending the use of its CSO technology used for its TV panels to OLED light panels for the first time in the world. The paper-thin OLED light panel itself serves as a speaker diaphragm with the sound emanating directly from the panel which is vibrated by exciters attached to the back. A flexible, natural lighting installation that also serves as a speaker not only delivers futuristic design and natural illumination, but also premium sound — hence the name. This new technology is expected to be widely used in AI-integrated mood lamps and ceiling lamps that will be able to talk with you as well as light up your life.
In addition, as previously shown at Light+Building 2016, Luflex panels can also be powered through metal mesh transparent conductive film laminated on glass. This "Transparent Connection Solution" has now been upgraded to be used with flexible OLED light panels. Now OLED light panel shelves can come in curved forms, which opens up new paradigms in retail and hospitality design.
LG Display is also showcasing in its booth the winners of a design competition held last year. This international design competition inspired designers and architects around the world to create unique and creative lighting designs with the new technology. More than 650 people around the world submitted designs, and 7 renowned designers and art directors selected the winners.
Luflex is further supported by LG Display's increased production capacity. The company completed its 5th generation (1,100mm x 1,250mm) OLED light panel production line in Gumi, South Korea, in Dec. 2017 with a monthly capacity of 15,000 sheets, which is about a 30-fold increase compared to the existing 2nd generation production line (370mm x 470mm) in Gumi with a monthly capacity of 4,000 sheets. The production capacity of the new production line will be gradually ramped up.
"We launched Luflex to create OLED lights that catch your eyes and comfort them with their natural light," said Sung Soo Park, Vice President and Head of the OLED Light Business Division at LG Display. "We also expanded our production line with the belief in the unlimited potential of OLED lighting. We are glad to be able to produce 30 times the capacity of lighting as before and are confident that Luflex will soon be lighting up spaces all around the world."