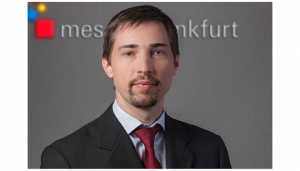 LED lighting technology has taken a front seat over the past 10 years. Research in technology has enabled LEDs to achieve the highest lighting efficacies. Simultaneously LED lighting cost has come down considerably, resulting in convenient adoption. Despite this paradigm shift further improvements are possible and desirable. The technology can further be improved in efficiency, color quality, light distribution, form factor and building integration. During LED Expo earlier this month ELE Times' Nikita Sharma caught up with Michael Dehn, General Manager, Sales Marketing, Messe Frankfurt India and explored such current issues and the latest technologies showcased at the 21st edition of LED Expo New Delhi 2019. Excerpts:
ELE Times: The 20th edition of LED Expo 2019 New Delhi showcased a positive shift with many companies focusing on smart and innovative LED technologies. What latest technologies were exhibited in this edition?
Michael Dehn: When you mention smart and connected lighting, of course, that is the umbrella for a lot of different products. It's a trend that you might just know that light is connected through IoT and there's a lot of communication that can happen between the light and other home automation products. And the trend is continuing. At Led Expo New Delhi 2019, the 21st edition, we had a future zone where we highlighted some exhibitors that are particularly innovative.
But now what is really the core of the LED products is that, what changed from traditional lighting to LED is, that the LED makes the light source become much smaller and much more flexible. There are so many things that can be done with it. I think many of them have not even been invented yet because the technology is extremely flexible. There are a lot of areas that can be improved through it. There are 389 companies on the show floor. A lot of potential innovations still waiting to happen. Also, LED expo is an exhibition which also showcases the components. The products can be developed using the components which are here on site. We have showcased machinery that shows the production technology and capabilities.
This is the place where on the one hand finished goods are shown which manufacturers have developed and on the other we have showcased the components that can be used to manufacture new products. For this edition of LED Expo we have achieved a growth of 18%. Again there is a growth of 25% of international exhibitors exhibiting products and technology which is a significant achievement. Indian market is has become much more interesting for international manufacturers which is reflected by their presence.
ELE Times: What is the reason behind the merger of India's two biggest lighting shows LED Expo and Light India, and how could this merger be beneficial to the exhibitors and the visitors?
Michael Dehn: For both of them it's extremely beneficial because these shows grew in their own kind separately to become what they are today. Both of them are big in their own rights. 'LED Expo' is more on the component side, whereas 'Light India' is more on the solution side. In such a scenario, obviously as an industry you don't benefit from having two platforms in the same city that too every two years it's only two months away from each other.
For the visitors also it is a big hassle because they might have to come twice. Also for the exhibitors – because they have to decide in which show should they participate? Bringing both the shows together, it is good for everybody. The platform will grow, the reach will grow, and attraction for international visitors and exhibitors will grow. Joining the two expos together will lift the whole industry to a new level.
ELE Times: What is the reason behind this edition's focus on solar integrated LEDs this time?
Michael Dehn: Led expo is about any kind of lighting and it caters to any kind of energy source – be it solar or regular power. It's just important that we cover everything. Solar powered LEDs play an important role in public lighting and in many areas outside. So, it has a clear place in this exhibition. We have seen over time that more and more companies are not only trying it out, they're also happy with the results of their comeback and even then attract others to join. That's simple formula of an exhibition.
ELE Times: What is your call on the Indian LED and lighting market?
Michael Dehn: My first call would be a big congratulations on achieving the full installation of the LED street lighting in India, which is now completed. That was a project that took a couple of years and I have to say its' quite impressive in a country like India to be able to replace all the street lighting in a relatively short time frame.
Overall, the advancements of the Indian industry in the LED sectors are very impressive. When you look at the improvements in manufacturing, the competitiveness that has increased in the last couple of years is commendable. India was not a competitive global player five years ago. Now it is considered a competitive global player in LEDs. This achievement is quite astonishing and it will also help India in the future when the trade war between us and China is going on, that India can pick up some of the business and from the terms of quality and price. Next year when we have the two shows combined, obviously it'll be a much more attractive platform for international buyers and they'll come to a country which is ready to supply to them.
ELE Times: The theme this year for LED Expo is 'SOLED: Connecting to future'. What was the main agenda behind this?
Michael Dehn: As a trade exhibition, if we do our job well, we should attempt to reflect the industry as it is today. We should help provide a vision of the future to the industry. Whatever that vision be, we have to make sure that this is the place to learn about it, to know about it. Because everybody who comes to the show has the same question, where's my business going to be next year? Where's my business going to be in two years down the line? Where's my future? Everybody has the same question. Now, by bringing everybody together to this platform is part of the answer. People are talking on the show floor and through all these conversations you understand much more where the industry is going to. It gives the idea as what are the new trends in the industry.
You know, many times you have technologies that are new, and that are not going anywhere. They are new, they introduced and then they disappear. Whereas you have other technologies, they're new and they're growing. At one point, LED was new and nobody knew whether it would take us to. Well, it didn't only take off, it just exploded. It just took the market by storm. And so, whatever it is, an exhibition is always the place to learn about the latest technology, latest trends, and also to provide an outlook for the future.
ELE Times: What could be expected from the upcoming merger edition of the trade fairs?
Michael Dehn: The two exhibitions have a slightly different focus. LED Expo is about components, manufacturing and some finished goods while Light India is about finished goods and a view on connectivity, smart lighting, and so on. Bringing this together is the true unification of the sector because the sector was kind of, in two parts before. Now we bring it all together. That means it's a 360 degree view of this sector, which can only bring lots of benefits to everybody.