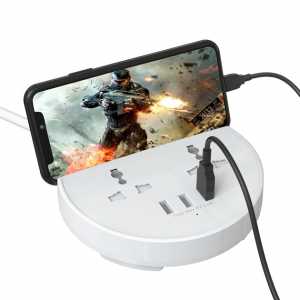 Portronics, a prominent leader in the innovative and portable digital product market, launches "POWER BUN" – Universal USB Charging Hub. The newly launched device is a must-have companion for an office or a hotel during the trips ensuring it's completely safe from over-heating and is shock resistant. It comes with Intelligent Charging Technology to match the smart devices and saves you from the trouble of buying multiple adaptors when one has to charge various USB devices at the same time.
USB & 220V AC 2-in-1 Charger:
Power Bun is designed for daily needs of charging multiple devices that make your life fun, convenient and productive. This device has three USB ports to detect and deliver an ideal output up to 2.4. It also has two -220V 10A AC power ports to charge devices that support a 100V-240V range of voltage input simultaneously. It comes equipped with a 1.5 m AC charging cord.
Safe, reliable, high-quality material:
This Multi-Functional device is BIS certified, offering Surge Protection and is Fire Retardant, casing up to 750 degree Celsius. It is reliable and is made up of high-quality strong ABS Plastic material that keeps the device safe and protects it from over-heating and is shock resistant.
Compatibility:
Power Bun supports all Android Smartphones, iPhones, iPads, Tablets, Bluetooth Headphones, Power banks, Mp3 players and other 5V USB devices. One can use it for both AC power and USB charging ports simultaneously. It is specifically designed for Indian wall sockets; this device comes with 12 months worry-free warranty.
Pricing and Availability:
Portronics POWER BUN is priced at a very striking price-point of INR 999/-and is available at both online and offline stores.
For more information, visit www.portronics.com