ROHM Semiconductor will be exhibiting at the upcoming electronica-India 2018, the world's leading trade fair for components, systems and applications in electronics, September 26th to 28th, 2018 in Bengaluru. At its exhibition booth in Hall 4, Booth# EC21, the company presents new solutions for Power and energy management in the automotive applications.
xEV (Electric Vehicles) can contribute to substantial reduction CO2 emissions, and India has laid out optimistic plans to accelerate the adoption of EVs by year 2030.
ROHM is pushing forward with the latest cutting-edge development of SiC (Silicon Carbide) power devices, which are expected to realize dramatic loss reductions compared to conventional Si (silicon) power devices. These power devices will be used more and more on electric vehicle (EV) motors and inverters.
The properties of the still relatively new material SiC promise comprehensive application possibilities in power electronics. SiC-based voltage converters have significantly less losses than conventional silicon-based converters. SiC also enables significantly smaller modules, components and systems than silicon. The increasing demand for the most energy-efficient devices possible will therefore increase the demand for SiC components in the coming years.
Energy savings and reduced system costs in all kinds of applications are heavily influenced by choosing the right power device. With its new developments resulting from the group's extensive research and design initiatives, ROHM is able to offer customers not only a full line-up of efficient, compact products for their applications, but also a complete solution for the power circuit designs.
In 'electronica-India 2018' ROHM will present Automotive solutions with 5 categories as 'SiC Power Devices", "Analog Technologies", "Infotainment", "Body and Powertrain", and "Made in India- for India".
Mr. Daisuke Nakamura, Managing Director of ROHM Semiconductor India, said, "At this time, ROHM will showcase the products and solutions which are supposed to be the key technologies in future EV market of India. The impact on next generation automobiles and its eco-system are very innovative and these have been adopted in the advanced xEV market like Japan, USA, Europe, and China. Please visit ROHM's booth in electronica-India 2018 and explore the innovations lead by ROHM Semiconductor."
Top Technologies
Nano-Pulse Control- Power ICs for Hybrid-Vehicles, e-Bike
In recent years, in the automotive sector where energy savings and environmental performance are increasingly demanded, mild hybrid vehicles utilizing 48V systems that provide better cost performance than full-hybrid cars, and improve fuel efficiency over conventional 12V power supply systems are attracting increased attention.
ROHM has recently announced the availability of a DC/DC converter with built-in MOSFET that achieves the highest step-down ratio in the industry (at 2MHz) required for 48V automotive systems such as mild-hybrid vehicles, e-Bikes.

In response, ROHM leveraged its vertically integrated production system that includes analog design technology and power processes to develop an ultra-high-speed pulse control technology 'Nano Pulse Control' that achieves a 1-chip power system.
EV-inverter & Charging Stations – SiC Power Devices
ROHM is a major supplier of auto-electronic components providing energy efficient power solutions for xEV (Electric Vehicles). The drive towards eco-friendly mobility across the world, and accelerating in India too, means that Electric Vehicle is a key focus area for the company. Starting 2016, ROHM has started to extend support for Formula E, as an official technology partner to the Venturi Formula E team, that attracts e-motor sports fans from around the world.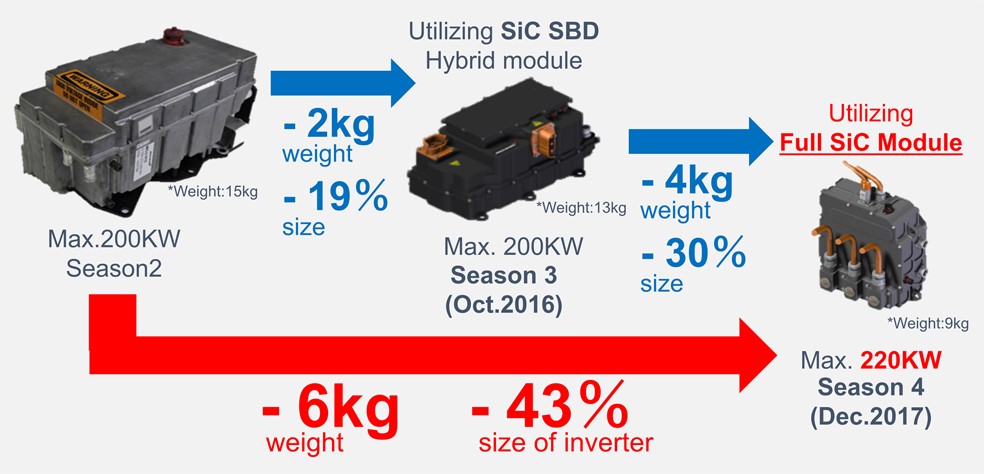 The SiC power module used in the inverter of the VENTURI Formula E team racing car achieves a large power throughput, owing to the development of a new package with an improved internal module structure, as well as an optimized thermal management. Compared to conventional IGBT modules with similar current ratings, this module reduces switching losses by 75% (at a chip temperature of 150°C). This contributes to the energy efficiency for the whole application. Also, having more compact peripheral components throughout the high-frequency drive, as well as the effect of reductions in switching losses contributes to a more compact cooling system as well.
By using this full SiC power module in the inverter section (the powertrain core), it makes the inverter 43% smaller and 6kg lighter than in season two. Even compared to the previous inverter used in season three, it is 30% smaller and 4kg lighter.
SiC (Silicone carbide) is a compound of silicon and carbon. It is produced via a crystal growth process for sublimation and high temperatures over 2,000 °C. Using this technology for power devices ROHM, a leading enabler of SiC, has achieved lower power consumption and higher efficiency operation.
LED Driver reference solutions- Automotive DRL/Rear-Lamps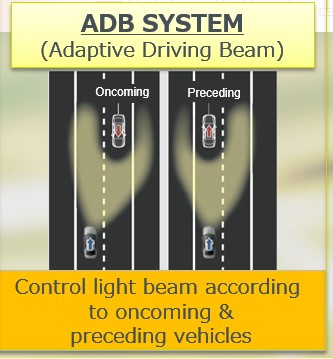 Automotive headlights are increasingly transitioning from conventional halogen lamps to LEDs. As such significant growth is expected in this sector. And although halogen lamps are still the mainstream choice, LEDs currently occupy 25% of the total headlight market. This share is predicted to increase to 40-50% by 2021-2022. LED lighting technologies are also expanding worldwide to increase the range of applications.
Preventing Accidents with Daytime Running Lights
In recent years, Daytime Running Lights (DRLs) continue to be adopted. DRLs are small lights that are automatically switched-on during the day to increase visibility by oncoming vehicles, and have been proven to prevent accidents. As a result they have been widely adopted in Europe. LEDs, which consume very little power (even when lit), are ideal for use in DRLs.
Sequential turn lighting is an application unique to LEDs, in which a string of LEDs lights up sequentially to indicate right or left when turning, acting as blinkers. When stopping, both the right and left rows light up at the same time. Many of the latest cars have already incorporated sequential lighting.
In automotive applications, however, the rear LEDs are connected in parallel and all LEDs are lit simultaneously. It is possible to reduce brightness variations to some extent using stabilizing resistors, but this has proven to be insufficient. ROHM proposes a solution using a constant current driver IC to reduce variations, together with our industry-leading resistors and diodes.
'Made in India, for India' – Product Development for Two-Wheeler Emissions Control and Integrated Lamp Control for LED Lighting Applications
Bharat Stage (BS) VI emission norms in India by 2020
In the backdrop of BS-VI emissions norms to be implemented in India for all vehicles, including two-wheelers, Electronic Fuel Injection (EFI) Control Systems will be required on two-wheelers, by 2020. Fuel Pump with Brushless DC (BLDC) Motor forms an integral part of EFI System on two-wheelers.
Adoption of BLDC Fuel Pump Motor is critical to meet the Power requirements of OEMs and avoid failures common with Brushed DC Motors. ROHM India Design Centre provides reference solutions based on 3-phase BLDC Motor Driver to address these requirements and achieve faster time-to-market.
Integrated Lamp Control for LED Lighting Applications
Usage of LED lighting enables improved safety, higher efficiency and better aesthetics in two-wheeler lighting. ROHM is committed to providing comprehensive LED lighting solutions, including Integrated Lamp Control, for the Indian two-wheeler market. ROHM India Design Centre is therefore building a roadmap of LED driver ICs to meet specific requirements of Indian OEMs, Tier1s and their corresponding value chains.
Transition towards more efficient Brushless DC (BLDC) Motors
In addition, ROHM is developing Automotive 3-phase Gate Driver ICs for BLDC Motor Applications. This lineup is expected to meet the requirements of Applications such as Integrated Starter Generator (ISG) for both two-wheelers and four-wheelers. Further they can address the specific needs of Radiator Cooling Fan, HVAC Blower Fan and other applications within Automotive Segment that are based on BLDC Motor.