New production line of BU Rhein Chemie for Rhenodiv® at Jhagadia site
To cater to the growing demands of the Indian Sub-continent & Asian markets
Mumbai, 30 March 2023 – Specialty chemicals company, LANXESS laid the foundation stone for its Business Unit Rhein Chemie's new and upcoming production line for Rhenodiv® – New Technology Release agents at its Jhagadia site. With this facility, the business unit will serve the growing demand of the Indian Tire & Rubber goods market.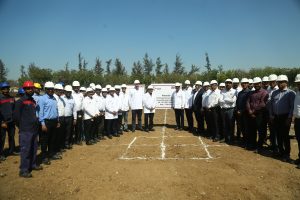 The new production line will feature state-of-the-art equipment and technology, allowing LANXESS to produce high-quality technology tire release agents more efficiently. Currently, LANXESS has such a facility in Argentina. Once this facility becomes operational it will cater to the Indian Sub-continent & Asian markets.
The production of high-performance tires and molded elastomer products relies on the use of effective release agents. Process safety and low scrap rates are key for the efficient production of tires and molded elastomer articles. Rhenodiv® release agents are strictly water-based, solvent-free* and free of volatile organic compounds (VOCs) and therefore, environmentally friendly. LANXESS Rhein Chemie business unit has the solutions, market understanding, production knowledge and comprehensive service to support its customers at every stage of the process chain.
The laying of the foundation stone was done by Dr. Jens Hendrik Fischer, Global BU Head of Rhein Chemie, Dr. Holger Graf, Global Head of Production and Mr. Namitesh Roy Choudhury, Vice Chairman & Managing Director LANXESS India, along with Mr. U Parmeshwara Sriganesh, BU Head Rhein Chemie India region.
The project is expected to be completed in the first quarter of 2024.