Kaynes Technology, India's leading Electronics System Design and Manufacturing (ESDM) company, was honored with the India Today Make in India Emerging Entrepreneur Award 2017 in the   category 'Electronics'
The India Today Make in India Emerging Entrepreneur Awards were instituted in 2016 to recognize Indian businesses, entrepreneurs in the Small & Medium Enterprise (SME) segment for their outstanding achievements, sustainable growth / contributions in select categories, employment generation capacity and for promoting economic and social  initiatives. It is now one of most sought after Awards in India.
This year the 2nd edition of the award ceremony was organized along with India Today Make in India Emerging Entrepreneur Summit on 6 July, 2017 at Hotel Taj Palace, New Delhi.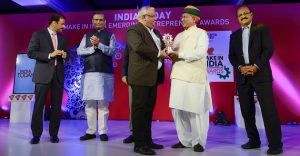 The distinguished jury comprising of eminent luminaries such as – India Today's Editor-in-Chief Aroon Purie, Sanjay Nayar, Member & CEO of KKR India ; Kiran Mazumdar Shaw, Chairman and Managing Director of Biocon; Baba Kalyani, Chairman of Kalyani Group; Manish Sabharwal, CEO, TeamLease and Uday Kotak, Chairman , Kotak Mahindra  – nominated the winners for the 2017 Awards after intense deliberations.
"Make in India mission is the right impetus to the manufacturing segment which with the advent of IT had taken a back seat. Manufacturing is yet to come of age with world class infrastructure and responsible skill set to give quality and reliable products to the Global market. There is still far more to achieve especially in the area of Innovation and creating an eco-system to scale up electronics manufacturing.  Skill enhancement and aligning with academia to foray in areas of future should be the main stay of every manufacturer. This award by India Today has surely recognized the work of companies like us, and will help us to do much better in the years to come" said Ramesh Kannan, President and Managing Director, Kaynes Technology
The Award function was graced by the presence of Shri Jayant Sinha, Minister of State for Civil Aviation, Government of India as the chief guest and Shri Arjun Ram Meghwal, Union Minister of State in Finance and Corporate Affairs, Government of India as the Guest of Honour.