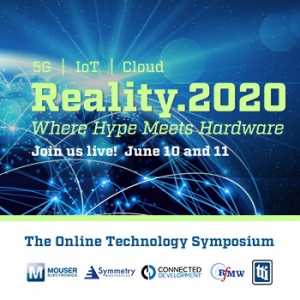 Mouser Electronics, Inc., the industry's leading New Product Introduction (NPI) distributor with the widest selection of semiconductors and electronic components, is joining TTI, Inc., and the TTI Family of Companies — Connected Development, RFMW, and Symmetry Electronics — to present the Reality.2020 online technology symposium, June 10-11, 2020. Registration is free for the two-day series of webcasts on topics such as Internet of Things (IoT), sensor technology, 5G, and cloud computing.
The interactive online presentation brings together the world's leading electronic component suppliers to deliver real answers to the key design challenge of these revolutionary times: How do you make your next product do things it has never had to do before — gather data, communicate, measure and detect and act?
Reality.2020 Where Hype Meets Hardware features a keynote address from Michael Knight, President of TTI Semiconductor Group (TSG), as well as informative webcast presentations from representatives from TE Sensor Solutions, Murata Electronics North America, Honeywell, Abracon, Qorvo, Ampleon, Semtech, and Connected Development.
For more information, visit www.ttiinc.live