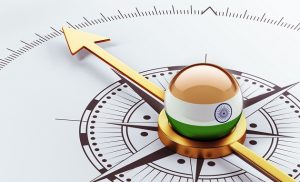 India has been the trading country since time immemorial asit dates back to 1400 B.C. In the ancient period Indians were the masters of the seaborne trade of Europe, Asia and Africa. Till about the beginning of the 18th century almost every nation on earth obtained to a large extent of supplies of Indian goods.The last decade of 20th century and the beginning of the 21st century witnessed the resurrection of large scale industrial activities in India. India – the very word reverberates a strong gust of dynamism. This south-Asian land of prominent heterogeneous features and characteristics, is difficult to be ignored by anyone globally. 'India' today is a huge brand to be reckoned with. After decades-long spells of uncertainty and paucity, this once-upon-a-time international hub of trade and business, is striking back like never before.
India–Japan relations have traditionally been strong and vibrant. The two largest and oldest democracies in Asia, having a high degree of congruence of political, economic and strategic interests, view each other as partners that have responsibility for and are capable of responding to global and regional challenges. The bilateral trade between India and Japan is expected to reach US$50 billion by 2019-20. The article discusses the bright spots for business and trade.
Presenting the next revolution: Invest India!
India is vibrating today in zeal, expanding its massive wings hovering over the international trade sky, presenting the world opportunities to sow and reap the richest of the harvest, especially in the fields of electronics and IT. Following are some of the most happening sectors where India stands tall as a major playground, and here is why you should be investing in them.
Automobile| Why to Invest?
By 2026, India is expected to be the third largest automotive market by volume in the world.
The emergence of large automotive clusters in the country.
Global car majors have been ramping up investments in India to cater to growing domestic demand. These manufacturers plan to leverage India's competitive advantage to set up export-oriented production hubs.
India a strong Research & Development (R&D) hub
Electric cars are likely to be a sizeable market segment in the coming decade.
Automobile Components | Why to Invest?
An emerging global hub for sourcing auto components.
6th Largest vehicles manufacturer in the world that produced 23.9 million vehicles in FY 16.
Favorable trade policy with no restrictions on import-export.
Favorable government policy with 100% FDI allowed through automatic route.
Presence of enabling infrastructure like automotive training institutes and auto design centres, special auto parks and virtual SEZs for auto components
Aviation | Why to Invest?
India is currently the ninth largest civil aviation market in the world.
Projected to be the third largest aviation market by 2020.
Indian carriers plan to increase their fleet size to reach 800 aircraft by 2020.
The Indian aviation sector is likely to see investments totallingUSD 15 billion during 2016-2020 of which USD 10 billion is expected to come from the private sector.
Defence Manufacturing | Why to Invest?
India's current requirements on defence are catered largely by imports.
Contractual offset obligations worth approximately USD 4.53 billion in next 5-6 year.
The allocation of Defence in the India's union budget is approx USD 34.53 billion and 31.1% of the defence budget is spent on capital acquisitions.
60% of defence related requirements are met by imports which offers a huge opportunity for import substitution.
Armoury of Opportunities: India has opened its classified gates in defence sector for private sector participation that is aimed to help foreign original equipment manufacturers (OEMs) to enter into strategic partnerships with Indian companies and influence the domestic markets as well as aim at global markets.
India is one of the largest importers of conventional defence equipment and spends about 31.1% of its total defence budget on capital acquisitions. About 60% of its defence requirements are met through imports. The allocation for Defence in the Union Budget 2016-17 is approximate USD 34.53 billion.
The 2013 Defence Procurement Procedure (DPP) is to encourage indigenous manufacturing of defence equipment, has been amended in 2016 to provide for IDDM (Indigenously Designed, Developed and Manufactured). The DPP is  giving weightage to 'Buy (Indian-IDDM)', 'Buy (Indian)' and 'Buy and Make (Indian)' over 'Buy (Global)' categories of capital acquisition.
India is also open for 100% FDI in defence sector, with up to 49% under automatic route and FDI above 49%, through Government route where it is likely to result in access to modern technology.
Electrical Machinery Why to Invest?
Market-oriented reforms, such as the target of 'Power for All' and plans to add 88.5 GW of capacity by 2017 and 93 GW by 2022 which will generate huge demand for power transmission & distribution equipment.
Incentives for capacity addition in power generation will increase the demand for electrical machinery
Investments in R&D in the electrical machinery industry are amongst the largest in India's corporate sector
A comparative advantage in terms of manufacturing costs, market knowledge, technology and creativity
Electronic Systems | Why to Invest?
Indian market size is expected to reach USD 400 Billion by 2020.
Electronic Manufacturing Services (EMS) industry is expected to be a significant contributor to the entire industry's development.
India has the third largest pool of scientists and technicians in the world.
Strong design and R&D capabilities in auto electronics and industrial electronics.
The government is promoting development of electronics manufacturing clusters throughout the country to provide world class infrastructure and facilities.
65% of the current demand for electronic products is met by imports which presents an opportunity for import substitution.
Major government initiatives like Digital India and Make in India and supportive policies including favourable FDI policies for electronics manufacturing.
Renewable Energy | Why to Invest?
India has the fifth largest power generation portfolio worldwide with a power generation capacity of 304.76 GW.
Economic growth, increasing prosperity, a growing rate of urbanisation and rising per capita energy consumption has led to increased demand for energy in the country.
Huge renewable resource availability and potential.
The target of National Solar Mission has been up-scaled to 100 GW from 20 GW of grid connected solar power by 2022, which creates a positive environment among investors keen to tap into India's renewable energy potential.
Government of India has a target of adding 175 GW of renewable power in the country by 2022, which will offer massive investment opportunities across the value chain.
Space | Why to Invest?
India's cost-effective space programmehas launched more than 200 satellites for 28 different countries and has the potential to serve as the world's launchpad.
The ISRO has forged a strong relationship with a large number of industrial enterprises, both in the public and private sector, to implement its space projects.
ISRO undertaking the development of cutting-edge technologies and interplanetary exploratory missions
ISRO provides technical consultancy services to industries and R&D institutions in diverse areas of its expertise.
IT |Why to Invest?
India's IT – BPM industry amounts for 56% of the global outsourcing market size.
Rapidly growing urban infrastructure has fostered several IT centers in the country.
Favorable government policies and incentives to facilitate investments in IT sector.
Presence of skilled manpower, India is home to a large number of IT professionals.
India with full vigor but utmost humbleness, is drawing the road map to economic empowerment with emphasis on international trade, which has been a time-tested formula for economic growth trajectories forother developed geographies like China, Japan, US, Taiwan, Korea, Germany, etc., in the recent past.
Sturdy progress in India's relative position in the global economy, with growing influence in international institutions (G-8, G-20) and negotiating free trade areas (with ASEAN, EU) are vital factors for business development.
 Corridors of Prospects
Government of India has launched five industrial corridor projects across India and the country is to spend a total amount 3.3 lakh crore INR to set up three new dedicated rail freight corridors (5,500 km in length, adding to the existing 3,300 km) over the next eight years. These proposed new corridors are the 2,328-km-long north-south corridor connecting Delhi to Chennai, the 2,327-km-long east-west corridor linking Kolkata with Mumbai, and the 1,114-km-long east coast corridor from Kharagpur to Vijaywada.
With a sheer aim to encourage investment, 100% FDI under the automatic route is permitted for both dedicated freight lines and rolling stock, including train sets, and locomotive/coaches manufacturing and maintenance facilities.
These corridors are focused on inclusive development to provide an impetus to industrialization and planned urbanization. In each of these corridors, manufacturing will be a key economic driver and these projects are seen as critical in raising the share of manufacturing in India's Gross Domestic Product (GDP) from the current levels of 15% to 25% by 2025.
Smart Industrial Cities are being developed along the Corridors. These cities are being developed to integrate the new workforce that will power manufacturing and will lead to planned urbanization.Industrial Corridors and 21 new nodal Industrial Cities to be developed.
The Power in Indian Power
India today is claiming surplus production of power and this piece of information needs to get high dissemination in the lobbies of world trade centres, as there has been evident skepticism on the power efficiency of the country that has failed to bring investors to the land. India today stands with a production of 1108 TW, and is the world's fifth largest producer and consumer of electricity with a total demand of 1905 TW expected by 2022.
100% Foreign Direct Investment (FDI) is allowed under the automatic route in the power sector for generation from all sources (except atomic energy), transmission and distribution of electric energy and Power Trading, subject to all the applicable regulations and laws. The government is focused on providing universal access and 24/7 supply of power.The commanding addition of new capacities to meet social and economic needs is taking India towards renewables, including solar, wind, mini hydel and biomass-based power, over the next 5–10 years.There is also a huge market for electrical energy storage in India, especially in integrating the renewable energy (RE) sources to the grid.
The Potentials in '0 and 1'
What is the biggest promise India is making to the world is the Digital India Drive. India, like never before is waving a huge green flag to this phenomenon. The rigorous adoption of digital technology isrevolutionising factory shop floors, reorganising old business models and making products smarter. Smart City Project across 100 Indian cities, is the greatest platform here which will enforce Digitalisation into every nook of the ecosystem. To facilitate this, a whole army of players in IT and major disruptive technologies will need to build up the force.
Demographical Advantages
Anation where 53% of the country's total population is in the working age bracket, India is standing tall, chest broaden with a steady rise in its GDP. India's average GDP growth rate of 7.7 per cent per annum, India's has a significant English-speaking population, The literacy rate in India is 74 percent, 250 million people are set to join India's workforce by 2030, India's young working age gives a significant edge in terms of cost competitiveness and low labour costs.
The Country that Consumes
India is heading upward to an altitude where it will hover as the 'nation of consumers'. This implies that a new middle class is breeding up and this will accelerate vital alterations in the country and internationally in innovation of production processes, distribution and delivery of goods and services:
India's consumption is expected to rise 7.3 per cent annually over the next 20 years.
Consumer spending in India grew from US$ 549 billion to US$ 1.06 trillion putting India on the path to becoming one of the world's largest consumer markets by 2025.
By 2040, nine out of every ten Indians will belong to 'the global middle class group' with daily expenditures ranging between US$ 10 and US$ 100 per person in today's purchasing power parity terms.
70pc expenditure will be on entertainment, healthcare, communication, education, personal products and services
Make in India
Indian Prime Minister, Narendra Modi, in September 2014, initiated the coveted 'Make in India' programme as part of a wider set of nation-building initiatives. This initiative is devised to project India as a global design and manufacturing hub.
Some Facts on Indian Infrastructure Build-up Trajectory
India is expecting $56 billion worth of investments over the next four years in the electronics sector to meet its increasing demand
India, not without the support of the entire electronics gamut, is aiming for an electronics output of $400 billion a year by 2020 to meet domestic demand and generate exports worth $80 billion.
India has allowed 100 per cent Foreign Direct Investment (FDI) in the electronics sector with a 25 per cent subsidy.
Marketing campaigns are being held across the world to attract more and more investments in the sector, which also holds the potential of $80 billion worth of exports
Infrastructure Ecosystem:
Road– India's total road network spans 3.34 million KM which is second largest in the world. This road network consists of 65,589 KM of highways.
Rail– Indian rail route is 63,028 KM long which is largest in Asia and second largest in the world under one management. Indian Railways have 222,147 freight wagons for use in movement of freight to any corner of the country.
Ports– There are 13 major ports and 187 minor/intermediate ports along the coast line of the country. Total capacity of Indian ports in the year 2010-11 was 616.73 million tons. Ports handle over 90% of India's international trade.
Airports– India has a total of 125 Airports, which include 11 International Airports.
SEZs– With a view to attract larger foreign investments in India, the Special Economic Zones (SEZs) Policy was announced in April 2000 by Indian Government. There are 133 special economic zones operating presently all over India.
India is on the threshold of major reforms and is poised to become the third-largest economy of the world by 2030. India offers the 3 'Ds' for business to thrive— democracy, demography and demand. Today, Indian manufacturing companies in several sectors are targeting global markets and are becoming formidable global competitors.