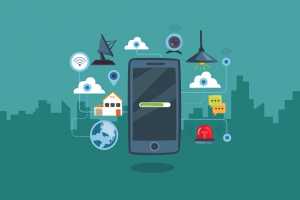 The ideal impetus for smart manufacturing
The Internet of Things promises advancements in smart manufacturing, with which comes a smart factory revolution. IoT platforms create interconnected and intelligent manufacturing processes that optimize industrial automation. Smart factory technology is built upon the transformation from traditional automation to a more open, connected and flexible system.
By incorporating system-wide physical, operational and human assets, it enables factories to better manage the entire production landscape through interconnected equipment, operations and facilities, as well as to predict and make real-time adjustments to changes. The result is increased production efficiency and less downtime.
Smart factory technology and IoT devices have far-reaching implications for efficiency, product quality and safety. IoT can empower elements of smart manufacturing such as Manufacturing operations, Quality assurance, Equipment maintenance, Sustainability, safety, Warehouse operations and Inventory management. Manufacturers have already adopted IoT to help improve quality control, achieve operational efficiency, transform the customer experience and more. Manufacturers using the IoT are seeing return on their investment in the form of improved product quality; greater operational efficiency and safety; better inventory tracking; and more accurate demand forecasting. Some companies are also using technology as a differentiator to enhance customer experience.
Within the next few years, 85 percent of industrial companies are expected to have implemented Industry 4.0 technologies in all key business divisions. The move to a smart factory isn't a quick fix. Implementing a robust IoT strategy is an investment of time and resources. But if done right, it is highly beneficial. Knowing where to begin and what to solve is the first step of a successful IoT journey.
Industry 4.0. technologies are helping manufacturers to digitize their factories. One of the most important of these technologies is Internet of Things (IoT). Powered by connectivity and sensors, it generates actionable, near real-time data insights about the condition of physical things in the factory and throughout the supply chain. This combined with data analytics, new technologies and a fast network is helping manufacturers better maintain their assets and boost efficiency in production.
Automation, Robotics and IoT: The Efficient Trio 
The IoT and robotics are coming together to create The Internet of Robotic Things. The IoRT is a concept in which intelligent devices can monitor the events happening around them, fuse their sensor data, make use of local and distributed intelligence to decide on courses of action and then behave to manipulate or control objects in the physical world.
The robotics and IoT communities have been driven by varying yet highly related objectives. IoT focuses on supporting services for pervasive sensing, monitoring and tracking, while the robotics focus on production action, interaction and autonomous behavior. A strong value would be added by combining the two and creating an Internet of Robotic Things. The concept where sensor data coming from a range of sources are fused, processed with local and distributed intelligence and used to control and manipulate objects in the physical world is how the term "Internet of Robotic Things" was created. A wider situational awareness is given to robots from the IoT sensor and data analytics technologies, which leads to better task execution.
Integration of IoT with industrial robots will help users worldwide in continuously measuring the performance of the robot with respect to each cycle, and continuously monitoring the components. A smart system/device can also be used to monitor the status of the robot and report as needed. With IoT, the robot by itself may be intelligent; it can collect all data and certain values from each of its sensors and either store or transmit live data that is acquired.
Internet of Robotic Things also finds application in warehouse automation fulfillment center. This is where mobile robots move bins and pallets and can coordinate their movements. Some other new phenomenon where Internet of Robotic Things is poised to find application is the personal robot space. This involves to take real physical action by learning and combining sensor data, which can range from garden maintenance to support of the elderly or cleaning. Internet of Robotic Things can also find applications in physical security and healthcare. On the basis of geography, the global Internet of Robotic Things market is segmented as North America, Europe, South America, Asia Pacific and Middle East and Africa.
IoT for Healthcare
The Internet of Things (IoT) technology is becoming increasingly common in the healthcare industry. The primary applications of IoT in the field of intelligent medicine includes the visualization of material management, digitization of medical information, and digitization of the medical processes.
IoT has begun to find broader applications in the field of medical material management visualization. IoT with RFIDs can help avoid public health problems by aiding in the production, distribution, and tracking of medical devices and medicine. This increases the quality of medical treatment while reducing management costs.
With real-time monitoring of the condition in place by means of a smart medical device connected to a smartphone app, connected devices can collect medical and other required health data and use the data connection of the smartphone to transfer collected information to a physician. The IoT devices today can collects and transfers health data: blood pressure, oxygen and blood sugar levels, weight, and ECGs.
These data are stored in the cloud and can be shared with an authorized person, who could be a physician, your insurance company, a participating health firm or an external consultant, to allow them to look at the collected data regardless of their place, time, or device. IoT can automate patient care workflow with the help healthcare mobility solution and other new technologies, and next-gen healthcare facilities. It also enables healthcare, machine-to-machine communication, information exchange, and data movement that makes healthcare service delivery effective.
Internet of Things (IoT)-enabled devices have made remote monitoring in the healthcare sector possible, unleashing the potential to keep patients safe and healthy, and empowering physicians to deliver superlative care. It has also increased patient engagement and satisfaction as interactions with doctors have become easier and more efficient. Furthermore, remote monitoring of patient's health helps in reducing the length of hospital stay and prevents re-admissions.
IoT also has a major impact on reducing healthcare costs significantly and improving treatment outcomes. IoT is undoubtedly transforming the healthcare industry by redefining the space of devices and people interaction in delivering healthcare solutions. IoT has applications in healthcare that benefit patients, families, physicians, hospitals and insurance companies.
What lies there in the basket for Consumers?
The Internet of Things collectively is trying to make life easier and more productive. With IoT optimistically being implemented in almost all the essential field, The need and passion for making life more simpler is an obligatory talk of the hour nowadays. Consumer products and essentials collectively with the introduction of IoT have had so many derivative products in the market and is advancing day by day. These products have made human life easier and also a bit improvised to some extent. Here are some of the new IoT products available for consumer needs.
August Doorbell Cam
August Doorbell Cam is an effective IoT innovation. August Doorbell Cam allows you to answer your door from anywhere or remote location. It constantly checks your doors and also captures motion changes in your doorstep.
Kuri Mobile Robot
Kuri is the first sort of home robot and most popular too. It is specifically designed for entertainment. Kuri interacts with the users and captures moments all around the house daily. 
Belkin WeMo Smart Light Switch
The WeMo Light Switch helps a user to manage your home lights from the wall, your mobile or by using your voice. This smart light switch connects to your existing home Wi-Fi network to give wireless access of your lights – with no subscription or hub required.
NETGEAR Orbi Ultra-Performance Whole Home Mesh Wi-Fi System
It is an extremely powerful Internet of Things device which maintains the whole home mesh Wi-Fi system that is capable to cover the whole house with fast WI-FI. It can work with the existing internet service provider.
Logitech Harmony Universal Remote
Logitech Harmony is a powerful and useful IoT smart device for daily purposes. It is a universal remote which lets you control your house media, lighting, and other smart devices from one location remotely.
WeMo Insight Smart Plug
WeMo smart plug is a good IoT product which helps to turn on your lights, turn appliances on/off and provides the ability to monitor them from anywhere remotely.
Ring Doorbell
Ring Doorbells is a reliable IoT product and allows the user to answer the door from any place using your smartphone. Protect your home with security cameras from Ring video doorbell.
Bitdefender BOX IoT Security Solution
Bitdefender Box is a very useful IoT device. It is the Smart Home Cybersecurity Hub that prevents various Internet-connected devices from malware, stolen passwords, identity theft, spying etc.
Philips Hue Bulbs and Lighting System 
Philips Hue is a very famous IoT device and is used as a personal wireless lighting system that allows to control your light and create the right ambiance for every moment. It makes the smart home to live with the most connected lights in the world.
Nest T3021US Learning Thermostat Easy Temperature Control
It helps to control the home's temperature and cooling environment with no effort from the user for Nest thermostat. It adapts according to your activities and manages room the temperature automatically based on your routine.
Nest Smoke Alarm
Nest Smoke Alarm is a very useful IoT device. It is a smoke alarm that thinks, speaks and alerts your mobile phone about any un-wanted emergencies in your home. It automatically tests itself.
Flow by Plume Labs Air Pollution Monitor
Flow Air pollution is an amazing discovery in the IoT market. It is a personal air quality tracker which informs the user in which area the air quality is bad and polluted and vice versa. It shows all the results in the map available in its app.
Footbot Air Quality Monitor
Foobot is a reliable IoT device which is helpful in measuring indoor pollution and leads to improved air quality in houses, workplace, and indoor public spaces. It often gives accurate results
August Smart Lock
August Smart Lock has proven to be a reliable security IoT device. It allows the user to manage their doors from any location hassle-free. It helps the user to keep thieves away and family in your home.
Amazon Dash Button
Amazon Dash Button is basically a device that gets connected over internet Wi-Fi and makes sure that the user does not lack important household items like soft drinks, grocery material, medical and personal care, kids and any pet items ever again.
Amazon Echo Plus Voice Controller
Amazon Echo Plus voice controller is a popular and reliable IoT device. It is capable to run songs, do phone calls, set timers and alarms, ask questions, provide information, check the weather, manage to-do & shopping lists, manage house instruments, and several other things.
Google Home Voice Controller
Google Home Voice Controller is a smart IoT device which allows the user to enjoy features like media, alarms, lights, thermostats, control the volume and much more functions just by their voice.
Path to Smooth and Efficient Work Process
Internet of Things IoT device is a burning topic in the current era. It brings with it a large number of possibilities in Industrial Robotics which will enable robots of tomorrow to integrate seamlessly on the shop floor and increase collaboration opportunities significantly. Internet of Things (IoT) is the current buzzword and rightly so with reports and studies talking more than $15 billion IoT market in India this year, accounting for 5% of the global market as per a NASSCOM report. The IoT market is growing not only for India but globally.
Everyone wants a world which is connected to the internet and everything in it – from your smartphone to computers to watches and refrigerators can communicate in real-time. Internet of Things certainly makes it possible. In India, the maximum push for IoT adoption is coming from the government, with initiatives like 'Digital India' and 'Make In India'. A special focus is on the development of Smart Cities – one that uses IoT devices to manage utilities, traffic, healthcare etc.
With the benefits of Internet of Things having been well understood and the push being given by the GOI in terms of Digital India, Make in India, Smart India-Smart Cities project ensuring the impact of IoT reaches right down the tier 2 and tier 3 towns and cities of India, entails lot of opportunity for IoT companies – startups in terms of providing innovative need driven Internet of Things solutions both at the industrial and consumer end.
By: Mannu Mathew | Sub Editor | ELE Times