Fractus Antennas, a pioneer in designing, manufacturing and commercializing miniature, off-the-shelf antennas for IoT, mobile connectivity, and short-range wireless devices, is aiming at narrow-band-IoT, LoRa, Sigfox, LTE-M and Zigbee with an antenna evaluation board and application note that covers 824-960MHz and 1.71-2.69GHz through a single input/output port.
It uses firm's FR01-S4-224 antenna (see diagram), which has a 12 x 3mm footprint – a device which featured in an earlier 863-928MHz app note design – but this time in a dual-band scheme.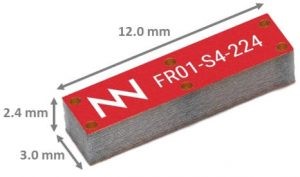 The footprint increases quite a lot once the necessary matching network (4x inductor, 3x capacitor) and PCB features are added.
The dimensions of the evaluation board are:
A 131mm
B 120mm
C 60mm
D 8mm
E 5mm
The application note is called 'The smart antenna for the smart IoT world' and includes details of a suggested RF measurement set-up, for example.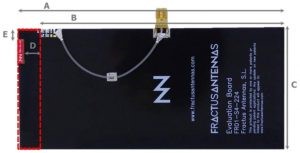 For this design, claimed average efficiency for the lower band is >65% and >70% for the upper (see graph), while peak gain is 1.8 or 1.9dBi respectively. VSWR is also covered by the graph, and omnidirectional operation is claimed.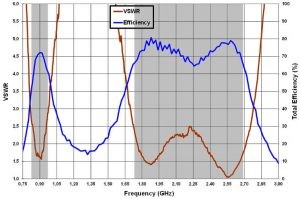 For other designs, according to the firm, the matching network component values and topology will need to be optimised for each different PCB the antenna is applied to, and it notes: "Nearby components such as LCD's, batteries, covers and connectors may affect the antenna performance. For this reason, placing pads compatible with 0402 and 0603 SMD components for a matching network as close as possible to the feeding point is highly recommended", adding that the matching network should be implemented in the ground plane area rather than the clearance area, as this will provide a degree of freedom for tuning once the design is finished.
For more information, visit: www.fractusantennas.com