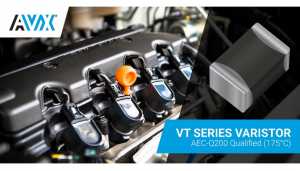 AVX Corporation, a leading manufacturer and supplier of advanced electronic components and interconnect, sensor, control, and antenna solutions, released the industry's first multilayer varistor (MLV) transient voltage suppression (TVS) devices rated for 175°C operation. The new TransGuard VT Series high-temperature MLVs provide extremely reliable bidirectional overvoltage protection across operating temperatures extending from -55°C to 175°C with zero derating across the entire range, are qualified to AEC-Q200, and are currently available in compact, surface-mount 0603 and 0805 cases sizes.
They also provide some broadband EMI filtering in their off state, which further extends their utility in sensitive automotive circuits by reducing the need for discrete MLCC capacitors and is especially beneficial considering current market-wide MLCC supply shortages. Application suitability for the new VT Series MLVs extends to circuit protection in other markets as well, and additional performance highlights include high current and energy handling capabilities, low leakage current, and multi-strike capabilities per IEC 61000-4-2.
TransGuard MLVs are zinc oxide (ZnO) based ceramic semiconductor devices with non-linear, bi-directional voltage-current (V-I) characteristics similar to those of back-to-back Zener diodes, but with greater current and energy handling capabilities and the addition of EMI/RFI attenuation functionality. The new VT Series MLVs extend the temperature range of overvoltage protection beyond the TransGuard portfolio's previous maximum of 150°C.
"The unique design of our new TransGuard VT Series allows AVX to offer the industry's first and currently only multilayer varistor transient voltage suppressors rated for 175°C operation that don't require derating across the full operating temperature range," said John Gallipeau, technical marketing manager for power film capacitors and circuit protection at AVX. "These characteristics, combined with the added benefits of greater current and energy handling capabilities in the on-state plus EMC filtering in the off-state, provide automotive and industrial design teams with a compact solution for protecting advanced applications against the transient pulses that are so often encountered in harsh, high-temperature environments."
Click here for more information