The year 2021 has been a tough year for everyone. Industries across the globe were shut, companies were barely floating above the economic ocean, in fact, and this year had pushed the whole world almost 2 to 3 years backwards, when all we were aiming was to achieve the things new and unheard-of milestones. The unprecedented outbreak of Covid 19 had a fierce impact on all the sectors of the global economy. Businesses that were hoping to expand and grow were now barely surviving, and no sector remained untouched from the horrors of the pandemic.
However, things are changing their course now. As the whole world is rapidly moving forward with vaccination drives, the blanket of the outbreak is being pushed away. Businesses and industries are going back to Normal, but with a 'New Normal'. They are optimistic to recover the damage that has been made by the pandemic and foresee a brighter future for their operations.
ELE Times Sub Editor and Correspondent Mayank Vashisht in a candid conversation, with Amit Kushwaha – Head Brand Strategy of Gameskraft where he reflected back upon 2021, and discuss the optimism for the next year, and provide an outlook for 2022, for their respective industry. Excerpts: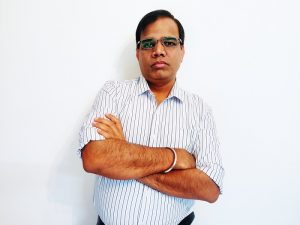 ELE Times: What would be the exciting industry developments to look forward to in 2022?
The gaming industry is at the cusp of a major growth trajectory and there is no doubt that the COVID-19 pandemic, which resulted in lockdowns, has accelerated online gaming in India in terms of an increase in the number of users, growth, and engagement. Now, the challenge that remains is maintaining that growth rate and engagement numbers. This is possible only through innovation and product development which gaming companies need to constantly work on in order to make games more engaging and trustworthy. This will help in bridging the expectation gap which players have from the overall industry.
In terms of development, we foresee that the focus of the industry is going to be on how to make games more interesting and engaging and give users what they are looking for. Bringing home the point that players' behaviour and trust are going to be the central themes for the gaming industry in the coming year.
ELE Times: What innovations are lined up for 2022 and for what application areas? (Be specific to your company)
At Gameskraft, implementing personalization in various gaming verticals is going to be a major focus point for us. We strongly believe that the future of gaming lies in real-time personalization, thus we will keep working towards making games more engaging and focused for each player. When we talk about personalization, we don't mean a cohort of users but understanding at each user level, the different kinds of games they play most often and using that data to analyse in making the gaming experience more engaging.
We want to make the experience unique for every player by providing them the option of personalization in terms of how they want to set up their gaming journey. Because of the constant and continued relationship between player and game, one can gather a unique sample of information on each player's behaviour over time. From entering the game, testing the gameplay, to different kinds of offers they like, all the details will help us in making the experience unique for each player. This feature of personalization will help us in getting higher engagement and building trust among users.
ELE Times: What milestones are targeted in terms of research, technology development, market expansion and revenue generation by end of next year?
Gaming is a segment where innovation is the crux and will continue to be going forward. Currently, gamers in India are open to games across the world which changes the whole reference point for gamers. Now, they want games to be of international standards and not just in terms of technology, but also mapping user and gameplay behaviour. Thus, technology development and usage of AI & ML are going to play a much bigger role in the coming times.
The Indian gaming industry has seen tremendous growth in the recent past and we believe this trend is going to continue. As per the sensor tower data, currently, we are the biggest gaming market in terms of app download, contributing 12% of the world's total. India is set to become a $6-7 Billion industry by 2025 from currently at $1.8 Billion, as per the report titled 'Building up the e-gaming ecosystem of India and the influence of smartphones' by the Internet and Mobile Association of India (IAMAI), RedSeer and OnePlus. This growth will be fuelled by cost-effective high-end smartphones and higher internet penetration, making India ready to sustain the high growth path we have seen for the gaming industry.
ELE Times: What policy support do you envisage from the government? Discuss in the light of taxes, incentives, infrastructure, quality power, Exim laws, and capital landing rate, labour laws, and more. Please raise the problems and its possible solutions.
Gaming is a rising sector in India and the government's support will make things brighter for the sector. Currently, the biggest issue which the gaming industry is facing is concerning the various laws governed by the state government. So, if the government can get a unified law for overall gaming, this might be the biggest gaming reform. We as an organization are always in favour of government regulation so that the industry can grow at a much higher pace and players have more faith in the industry. Furthermore, it will also help curb the issue of illegal players entering the market and bringing a bad name to the overall industry.
ELE Times: Considering emerging technologies what market trends to be followed in 2 to 4 years?
The rise in the use of games to socialise has been accelerated during the COVID-19 lockdown measures. As the gaming industry continues to evolve, constant advancements continue to take place. I think the first and foremost is innovation in payment technology which will be a game-changer for all the Real Money Gaming (RMG) platforms out there. Payments have become more cashless, instant, and secure and this has resulted in faster payments and withdrawals for our players.
Secondly, ensuring smoother gameplay must be the topmost priority for every gaming platform through improved monitoring and automated methods to spot potential issues proactively. These are some of the gaming trends that are likely to grow as technology advances. Intensifying competition between game developers will also be an important factor in driving the gaming experience.
Mayank Vashisht | Sub Editor | ELE Times