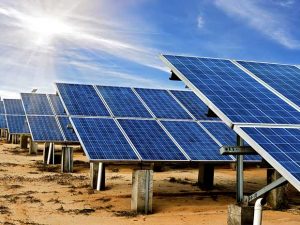 This month witnessed the trend continuum of renewable generation prices further dipping as last wind power auction of Solar Energy Corporation of India (SECI) was chased down to Rs 2.64 per unit. This is certainly a good news for consumers as are heading towards an era of low-cost energy with low carbon footprint.
This is also a step ahead towards achieving the ambitious target of 175 Gigawatt (GW) of renewable generation by 2022, which includes 100 GW of Solar and 60 GW of wind generation. It will take the current total renewable energy generation capacity to about 59 GW with wind already at now at about 33 GW. A run rate of about 6 GW wind addition per annum will see the country through to meet the scheduled wind power target.
Prices of renewable energy have been plummeting over the last few years with solar power tariffs dropping to an all-time low of Rs 2.44 per unit in a tariff-based competitive bidding conducted by SECI. The current tariff of Rs 2.64 per unit for wind is quite a steep fall from Rs 3.46 per unit achieved in the last auction. With these prices, renewable energy is now standing competitive on its own without any support and will now be treading a self-perpetuating growth mission.
This fall in prices will bring relief for financially-constrained distribution companies too, provided power evacuation is also carried out in a cost-efficient manner. The Government of India has provisioned the waiver of interstate transmission charges for solar and wind power evacuation for projects commissioned before Dec 2019 and Mar 2019, respectively.
However, with the prices now self-sustaining, probably these waivers may not be sustainable. These subsidy waivers achieve little more than socializing the transmission charges, as ultimately it is the consumer who bears the brunt.
An efficient transmission system built in a cost-effective manner is the next most important requirement to ensure that the gains resulting from this dawn of green power are delivered to the consumer. This could be best achieved by having a robust power transmission infrastructure built through forces of competitive bidding.
A cost-plus regime of raising power transmission infrastructure could build in the cost of inefficiencies, reflected in higher cost of delivered power, particularly in view of the fact that the cost of transmission per unit of renewable energy delivered is inherently higher due to low Plant Load Factors (PLFs) of renewable generation projects.
Historically, it has been proved that the tariff for transmission infrastructure developed under tariff-based competitive bidding model is less by around 30 percent as compared to that of Cost Plus model. It is imperative that the social gains made through competitively achieved low cost of renewable generation are supported by a competitively bid power evacuation model. This will go a long way in effectively passing on the gains of this new era of green power revolution to the consumer.
By Anil Rawal, Vice President and Head of the Business Acquisition and Business Development, Sterlite Power