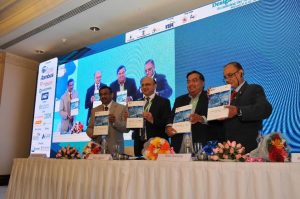 India Electronics and Semiconductor Association (IESA), the premier trade body, representing the Indian electronic system design and manufacturing (ESDM) on February 21, 2017, commenced IESA Vision Summit 2017. This is the 12th edition of Vision Summit focused on the central theme of Design led Manufacturing- Redefining the future of India's ESDM. This edition will feature large and medium sized IT companies as well as the starts ups. IESA is working along with the Central/State Government in developing policies and taking measures to scale up indigenous production in India to meet the rising demand for electronics.
The riveting inauguration of the summit was addressed by Sh. Rajiv Bansal, Joint Secretary, MeitY, Govt. of India, Ravi Gururaj, President, TiE Bangalore and K Krishna Moorthy, Chairman, IESA.
The Summit attracted thought to provoke keynotes, panel sessions and workshops from CXO's of global majors like Cypress Semiconductors, Rambus, Qualcomm, IBM, Tessolve, Seagate, Western Digital, MediaTek, Applied Materials and IMEC, Lam Research, Soitec and many others. The event also attracted delegations from Japan, Scotland, Taiwan and Philippines, France, Belgium, and the USA. The workshops on "Designing with Fully Depleted Silicon-on-Insulator (FDSOI) technology for IOT products, Creating ESDM Product Innovation Hubs on Campus" and "India Digital Broadcast", was also well received by the attendees of Vision Summit 2017.
The Summit also marked the announcement of IESA – EY executive summary report highlights which stated India's ESDM sector to optimistically reach about US$228 billion by 2020. It also added that the $100+ billion opportunities in 2016-17 will grow further at a CAGR of 16- 23%. Apart from sector-specific drivers, the forecasts are based upon overall GDP growth of India, currency movement, inflation, existing trade agreements, consumer sentiments, potential government consumption, existing government policies, investments (foreign and domestic), manufacturing entities (existing Indian players, foreign players, Indian conglomerates, start-ups) and type of value addition in India.
Other highlights pointed out that, the domestic manufacturing for Electronic Products has been growing at a CAGR of 17% which is expected to increase further over next 5 years. Electronic Manufacturing Services segment has seen a huge growth over the past two years and has grown from $0.5bn. in 2013 to $1.0 bn. in 2015. Indian EMS market is estimated to witness an exponential growth of 42-68% over the next five years to reach US$6-13.2 billion.
Many IESA Member companies highlighted their commitment to Make in India through investments as a part of M-SIPS approvals. The total combined investment is envisaged to be more than Rs. 1,700 crores.
Senior officials from the state governments of Karnataka, Kerala, West Bengal, Chhattisgarh, and Jharkhand highlighted the formulation and implementation of ESDM policies in their respective states.
Next Page: IESA Technovation Awards 2016