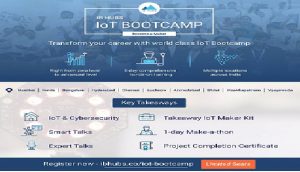 The Fourth Industrial Revolution is around the corner. With a new wave of technologies disrupting every industry at an exponential pace, it impacts on our lives will be unprecedented.
Internet of Things, dubbed as IoT,  leads this pack of new technologies. The World Economic Forum estimates that in the next ten years, IoT revolution will dramatically alter a range of industries which together would account for two-thirds of the Global GDP.
From the history, it has been evident that countries which adopt the new technologies faster grab the major chunk of opportunities these technologies bring, and hence transform into world leaders.
It's high time India developed a skilled workforce in the advanced technologies and stood at the forefront of this technological change. Now, iB Hubs, a PAN India Startup Hub, is on a mission to make this happen.
After a successful 2017 edition, iB Hubs announced iB Hubs IoT Bootcamp 2018 – a uniquely designed program that takes participants through a comprehensive hands-on training on IoT. Having partnered with many National and International IoT Players the Boot Camp is set out to create skilled professionals in IoT.
Speaking about the Bootcamp Kavya Dommeti, iB Hubs, said, " We want to create pillars of innovation in the Indian IoT ecosystem and make India a world leader in IoT. We are receiving a huge response for the Bootcamp from enthusiasts from all walks of life- students, corporate professionals, faculty, researchers and entrepreneurs to name a few. This is really motivating us to deliver our training on a large scale. "
The Bootcamp will happen in 10 cities across India- Noida, Mumbai, Bengaluru, Hyderabad, Chennai, Ahmedabad, Lucknow, Bhilai, Visakhapatnam, and Vijayawada.
At iB Hubs IoT Bootcamp '18, you can learn what a self-paced learner in IoT would usually learn in 3-months, in just 5 days. Based on industry requirements and a thorough research on 100+ courses, the Bootcamp's curriculum is crafted by experts who have previously worked for companies like Intel, Qualcomm, and Nvidia.
The 1-day Make-a-thon at the end of this 5-day Bootcamp enables participants to apply their learning and turn their ideas into product prototypes. Participants also get to take home the IoT Maker Kit which includes a custom designed IoT development board – 'Octabrix' along with handpicked sensors, actuators, and other prototyping components.
The Bootcamp also features specially crafted sessions on topics like the Internet of Drones, Wearable Electronics, Entrepreneurship in IoT and many more. Apart from IoT, the Bootcamp gives the participants hands-on training on Cybersecurity too. It dedicates an entire day to Cybersecurity.
Your performance at the Bootcamp can also win you amazing rewards. You could gain extra credits to Blynk Platform and enhance your skills to advanced levels. You could win free passes to eminent EFY & IESA conferences, widen your exposure to the IoT ecosystem and so much more!
If you are looking to upskill yourself in IoT, iB Hubs IoT Bootcamp '18 is a perfect choice for you.
Register for the Bootcamp here.