Increasing the production capacity of pioneering HVDC and power-quality products will accelerate the integration of renewables and support the energy transition worldwide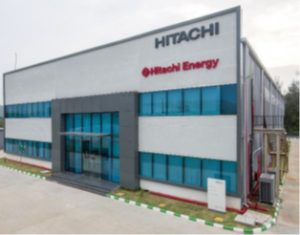 The HVDC and Power Quality factory in Chennai
Hitachi Energy, a global technology leader that is advancing a sustainable energy future for all, today has inaugurated a new high-voltage direct current (HVDC) and power quality factory in Chennai. These pioneering solutions are key for growth in transmission, especially for the integration of renewables and electrical grid stability.
The new factory will manufacture advanced power electronics for HVDC Light, HVDC Classic, and STATCOM, together with MACH control and protection system, the brain behind our advanced transmission and power quality solutions. It will deliver advanced solutions to support the acceleration of the energy transition, enabling Hitachi Energy to increase its production capacity.
This factory will serve both the fast growing Indian market as well as the large global demand for clean energy solutions to integrate renewables at scale and at speed that it is needed. It is the latest HVDC factory built and the world's second testing lab of power quality control solutions. It will cater to the rising number of high-voltage transmission projects in India and export to support global HVDC installations.
As electricity becomes the backbone of the future energy system, India has set the target to meet half of the total power generation from renewables by 2030. Achieving this will require the bulk transmission of clean energy over long distances and balancing the national grid for intermittencies, for which HVDC and power quality are the ideal solutions.
"To get to a sustainable, flexible and secure energy system, both sustainability and energy security will be at the center of the efforts for advancing a sustainable energy future for all," said Claudio Facchin, CEO of Hitachi Energy. "Accelerating and anticipating investments in grid infrastructure and in innovation, people and modern production facilities are of key importance as we can build upon it and expand as the energy system evolves."
"Within the next few years, India foresees a significant number of HVDC projects to enable
India's net-zero vision," said N Venu, Managing Director and CEO, India & South Asia, Hitachi Energy. "Building our new facility will help accelerate production and help our customers to advance a sustainable energy future for all. It is a step towards meeting the increased demands to supply clean, safe, and secure energy solutions."
HVDC transmission has been a breakthrough in connecting remote renewable generation points with the national grid, transmitting large amounts of electricity with significantly reduced transmission losses and physical footprint. Hitachi Energy has executed more than half the HVDC links in India, including the North-East Agra link, the world's first multi-terminal ultra-high voltage link enabling the transmission of a clean power supply for 90 million people, as well as the 6,000-megawatt Raigarh-Pugalur link, transmitting power from central India to consumers in the south, over a distance of 1,830 km.