The HARTING Technology Group will once again be showcasing numerous new products and solutions at the HANNOVER MESSE (23 to 27 April 2018). This year, HARTING (Hall 11 / Stand C13) will highlight the importance of Integrated Industry partnerships by way of a few examples. HARTING will emphasise this year's HANNOVER MESSE motto of "Integrated Industry – Connect & Collaborate."
In conjunction with partners from the MICA.Network and Swiss automobile manufacturer Rinspeed, HARTING will show how partnerships can create added values for the customer. Currently, 24 partner companies cooperate in the MICA.Network and present some 29 use cases on the basis of MICA (on the website www.mica.network) for various applications in the area of Industry 4.0.
As the eye-catcher and technology carrier par excellence this year's HARTING stand will once again showcase a concept vehicle created by the Rinspeed automobile visionaries. The revolutionary "Snap" is a driveable electro-pod with exchangeable vehicle superstructures – depending on applications and customer demands and wishes. Rinspeed, the Swiss automobile specialist, will be highlighting the new "Snap" concept vehicle in Hannover. For the third time in a row, Rinspeed will be relying on innovative HARTING technology. This time around, the family-owned company is delivering rapid-charging technology to charge the "Snap" with electric power, quickly and in an environmentally friendly way.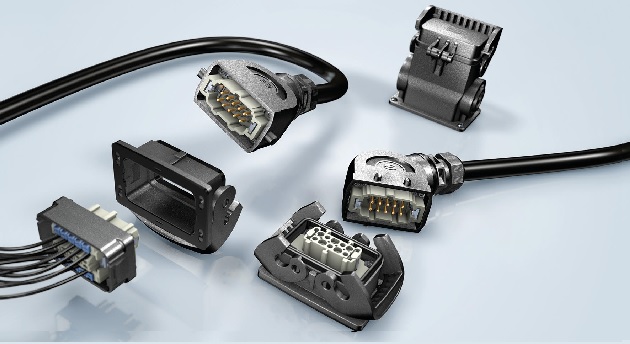 HARTING expands modular connector portfolio
Another highlight at the trade show will be modular connectors. HARTING is consistently expanding its portfolio of modular connectors based on the fast and secure PushPull locking system. Industrial connectors need to be robust, easy to use and at the same time as powerful as possible.
Most of them need to be locked with dedicated tools and do not work in an obvious manner. Handling industrial plug-in connections must be made safer, faster and as easy as using a smartphone at home. Consequently, HARTING will be using HANNOVER MESSE 2018 to showcase a broad spectrum of solutions involving future PushPull connectors as well as those already being successfully deployed for all three lifelines of industrial cabling.
Click and ready
Over the next few years, HARTING will complement the Device Connectivity portfolio in a targeted fashion with additional connectors that can be easily locked in place without tools and that are also as easy to disconnect.
To start, HARTING will be launching the new PushPull V4 Industrial for the two major market sectors of industry and automation. For particularly tough requirements in the area of robotics, but above all for railway applications, HARTING scores points with the M12 PushPull. In addition to the M12 connector, there are already sockets for cables, housing feedthroughs, and printed circuit board connections. The HARTING PushPull Easy – easy to use, connected quickly and wholly secure.
Miniaturisation conquers all areas
At the HANNOVER MESSE, HARTING will show products and technologies for the Ethernet communication of today and tomorrow. Miniaturisation is one of six trends that well describes the developments in Integrated Industry. Components and entire machines are shrinking in all areas of industry and automation. At the same time, digitisation is leading to an ever wider diversification of smart devices and decentralised computing power down to the field level. Whereas in the past there were large data highways and branched bus systems, today ever more intelligent components such as camera systems, sensors and actuators mean that fast Ethernet is branching down to the farthest reaches of the field level. They are the lifeblood of an increasingly and faster-networked industry.
To provide device manufacturers with the appropriate interfaces for their miniaturisation, HARTING has created a number of new, smaller alternatives to established sizes in the connector business. What used to be achieved with an RJ45 is now achieved by the ix Industrial. The ix Industrial is smaller yet more robust – and up to 10GBit fast. For applications in which the operator has to reckon with operating supplies or other environmental influences, the operator can use HARTING's M8 D-coded to supply sensors with Fast Ethernet that with an M12 would not have fitted all the way to their place of use.
This train of thought does not end in front of the housing wall. This "diet size" miniaturisation also applies for printed circuit boards. Here, the M12 Magnetics offers up to 30% space savings and simplified traces routing thanks to the clever integration of the transformer.
Because the end of miniaturisation is still far from being achieved, HARTING continues to pursue the path of T1/SPE transmission technology in research and development. In the spirit of "Connect & Collaborate", HARTING, as a solution provider in SPE transmission, seeks to close ranks with reliable technology partners such as LEONI and Reutlingen University of Applied Sciences. Single Twisted Pair Ethernet – one of the HARTING highlights at the HANNOVER MESSE 2018.
Han-Eco B: Industry standard in plastic
HARTING has taken a big step forward with the Han-Eco: the connector series with its high-performance plastic housings is now fully compatible with the industry-standard Han® B. Consequently, all contact inserts and modules which can be integrated into the standard metal housing also fit into the corresponding Han-Eco B housings. Plastic and metal versions are plug-compatible.
This ensures full backwards compatibility of the Han-Eco B in industrial environments. Users can take advantage of the plastic and/or metal materials as part of their associated cost and quality requirements. Existing manufacturing test facilities remain usable for both housing variants.
The use of plastic also increases corrosion resistance. The high-performance plastic employed is fire-resistant to UL94 V0 and reduces the housing weight by roughly half compared to metal.
In addition to the use of standard monoblocks, it goes without saying that it is also possible to use the Han-Modular product range via the hinged frame. The metal hinged frames can be firmly screwed into the new housings. The Han-Eco series achieves full compatibility across the entire Han portfolio.
"We have achieved the goal of designing Han-Eco and Han B standard-compatible," says Product Manager Ingo Siebering. The user benefits from total flexibility in selecting the connector material used to connect components and equipment in a machine, plant or within a production scenario.
Han configurator: customized interface design
HARTING has developed a Han configurator for industrial connectors that allows machine designers to quickly obtain all the information and decision-relevant data they require from the interface they need. Users only need to enter 3 parameters – a number of contacts, required voltage and current – to reach an initial potential solution. This can be accepted or further refined. Equally adequate alternatives can be achieved with just a few mouse clicks.
There are two ways to work with the configurator:
With selection support: enter contact number, voltage and current – the configurator then develops proposals for suitable interfaces
Without selection support: for persons well-versed in the Han portfolio, one has the option to autonomously design the interface in the configurator – select housing top/bottom, specify pin/socket inserts, etc.
No matter which options users choose, the Han configurator makes mastering the topic of "connectors" easy despite increasingly complex requirements and generally high product diversification. The most important aid is clarity, which is achieved by the continuous visualisation of component selection status using a 3D model. In addition to the technical data entered, the configurator also takes into account any decisions previously made. Parts that do not match a previously made selection are no longer displayed as an option. This makes it impossible to combine components incorrectly.
The new configurator facilitates collaboration. Developed interface solutions can be saved, shared and reloaded at any time. "The configurator enables a new kind of cooperation between manufacturer and supplier," says Andreas Wedel, head of the Technical Competence Center at HARTING Electric.