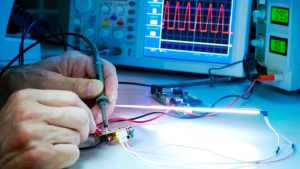 Collaborating with Venture Capitalists (VCs) and utilising the Electronics Development Fund (EDF), the Government of India (GoI) is planning to invest upto Rs. 2,200 crores on electronic startups ,working on new technologies, by 2019, a senior government official said.
The benefits of the fund to provide risk capital will be attained by electronic companies working on nano electronics and IT. 10% of EDF's capital will be invested in each company and the rest will be put in by Venture Capitalists (VCs).
"One of the major issues that we have had in India is that we have not had big VC funding coming in. Mostly it (big funding) has gone into e – commerce and e – tailing. That is not enough. We need to create IPR also. To create IPR, there is a large number of tech start – ups, people working in nano – technology etcetera but the problem is who will fund them, because it is almost like R&D, until they commercialise", Income Tax department secretary, Aruna Sundararajan said.
The Government's aim regarding EDF is to enable startups to get funded by private VCs.
"That will not happen on its own. So the idea is to seed the market. Government putting in 10% doesn't seem to be a big deal but it is a big deal because that is what builds a certain degree of confidence in the investors who put money into the venture fund", Ms Sundararajan explained.
So far, the Government has enabled electronic startups to get funds amounting to Rs. 6,870 crores, out of which the government's contribution is Rs. 687 crores.
"Our eventual plan is to go up to Rs 22,000 crores by 2019, out of which the government's share will be Rs 2,200 crores", Ms Sundararajan said.
Another main objective of the Government's EDF is to develop the electronics design and manufacturing sector in India so that India's net electronics imports by 2020 are 'zero'!