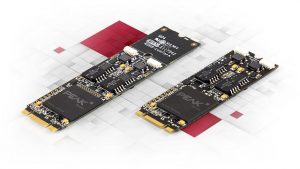 With the PCAN-M.2, PEAK-System is the first manufacturer to use the M.2 PCIe interface for the connection of CAN and CAN FD networks. The unique feature of the CAN FD interfaces of the PCAN brand is also available: the PCAN-M.2 achieves a transmission rate of up to 12 Mbit/s for the maximum 64 data bytes of a CAN FD frame. The card can be easily connected to CAN and CAN FD busses via a D-Sub connector. Each CAN channel can be terminated and is galvanically decoupled with 300 volts. The card is available as single and dual channel version.
For a future-proof operational capability, the M.2 card has the form factor of 2280 over the common contact strip with B+M key and a predetermined breaking point. The latter makes it possible to adjust the length from 80 to 60 millimeters, corresponding to the form factor 2260. Furthermore, the PCAN-M.2 can be used arbitrarily on current mainboard sizes such as Mini-ITX up to E-ATX. Thus, the CAN FD card is ideally positioned for very small as well as large desktop and industrial PC housings. It is particularly suitable for embedded systems used in motor vehicles, trains, and aircrafts.
The scope of delivery includes the application PCAN-View for the display of CAN and CAN FD traffic, several APIs for the development of own software with CAN and CAN FD connection, and device drivers for Windows and Linux.
For more information visit:  www.peak-system.com/PCAN-M-2.473.0.html?&L=1