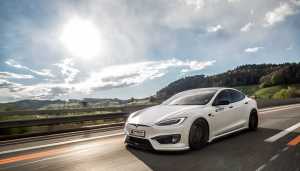 The bubble around global lithium and cobalt markets has finally burst- prices of ores have plummeted by over 30 percent in 2019 alone. This piece makes an assessment of what that might mean for e-automotive pioneers like Tesla and the Indian market in general and gauges if this could be EV's watershed moment.
It's finally happening! Latest market trends show that since the beginning of the year, global prices of lithium and cobalt have toppled down by around 30 percent. This sudden bursting of the bubble around the lithium and cobalt market, might be a blessing in disguise for the global EV market- it could very well prove to be its watershed moment.
Both Lithium and Cobalt make up the majority of the Lithium-ion batteries that in turn make up for the biggest addition in EVs, in terms of price. That means, if you take away the cost of batteries from an EV, it won't remain as expensive to buy. This has been the biggest reason as to why EVs have largely failed to match the price bracket of traditional internal combustion engine powered vehicles. However, with this huge price drop in the beginning four months of 2019, and trends suggesting continued plummeting of prices throughout the year means that for the first time in EVs' history, in terms of prices, they can be competitive against IC vehicles, more than ever.
The impact of falling lithium and cobalt prices has been experienced the most by EV battery manufacturers. EV battery prices have hit an all-time low, and as Lithium and Cobalt prices continue to fall, the prices are expected to go down even further. A lot of experts around the world predicted that since EV battery demand is soaring around the world, Lithium and Cobalt prices will skyrocket in 2019. And this unexpected trend has taken a lot of those experts aback.
However, one particular reason that this trend could be attributed to is the incessant increase in output by mine workers worldwide after lithium extraction in DR Congo fell down. In order to make up for the lost quantity of Lithium that used to come from DR Congo, mining companies around the world started to vigorously extract Lithium from reserves around the world.
For EV battery manufacturers worldwide, this news has come as a breeze of fresh air, as now they can increase production while increasing their profit margins as well. And as prices continue to spiral down, EV's watershed moment could be looming closer than ever before. In a statement to the press, Francesco Venturini, CEO, Enel X, a leading provider of energy management advisory globally said, "The significant decrease in lithium and cobalt prices recorded over the past months was driven by the looming perspective of a lack of supply and soaring prices, causing miners to increase production, which resulted in oversupply, refuting recent fears of supply shortage".
Impact on Global EV Industry
Venturini also believes that as battery prices come down, a price parity between EVs and traditional vehicles might come as soon as 2025. This is of particular significance. Since we all know the massive benefits that EVs have over internal combustion powered vehicles, a price parity would make them more accessible to the common buyer which in turn would mean that for the first time, we'll see more EVs on our streets than IC powered vehicles.
Here's a quick fact for you to understand as to just how much cost a battery adds to an electric vehicle. Take a Chevrolet Bolt, for instance. The cost to replace its battery pack stands at around $15,700 (Rs. 11 Lakhs) – this is about 40 percent of the entire value of the car itself! This means that almost half the price of an EV can be attributed to its sophisticated battery pack. And that is exactly why EV manufacturers around the world are rejoicing at the news of the recent price cuts.
While we are on the subject of EV manufacturers, it would be unfair not to mention Tesla- the firm that is behind this entire trend towards transport electrification. After landing some great electric cars in the market, Tesla has been working on its gigantic factory that'll help supply the massive demand of lithium-ion batteries that the company expects. The factory in question here is called the Gigafactory.
Located in Nevada, US, the Gigafactory is a huge sprawling facility where Tesla aims to source all its battery packs from. Tesla's blog describes the Gigafactory as such- "The Gigafactory is designed to reduce cell costs much faster than the status quo and, by 2020, produce more lithium-ion batteries annually than were produced worldwide in 2013. By the end of the first year of volume production of our mass market vehicle, we expect the Gigafactory will have driven down the per kWh cost of our battery pack by more than 30 percent."
The Tesla Gigafactory
When the Gigafactory in Nevada was first inaugurated in 2016, Tesla CEO, Elon Musk called the factory a "machine that builds the machine." However, going by the enormity of the factory, calling it just a machine seems to be a bit of an understatement. Everything about the Gigafactory in Nevada shouts massive – from the surface area of 5.5 million square feet that it covers, to the estimated cost of $5 billion in building the Gigafactory.
Tesla made many bold claims about the Gigafactory before it opened in 2016. The company told the state of Nevada that the factory would eventually create 6,500 on-site jobs and give a $100 billion boost to Nevada's economy over the next two decades. All told, the Gigafactory was supposed to generate 35GWh worth of batteries by 2020.
As of today, Tesla has not only met all those promises, but has gone even beyond on some of them. For starters, the number of people to be working at the Gigafactory is expected to be around 10,000 and of all those 10,000 people, a staggering 94 percent come from the state of Nevada.
Talking of the sheer numbers, Tesla produced more than 20GWh in batteries in 2018 alone, and it's on pace to hit that 2020 target two years ahead of schedule, which would account for about 60 percent of the lithium-ion batteries made in the world. The company makes millions of battery cells per day. And Tesla has managed to achieve these impressive figures with only 30 percent of the Gigafactory being currently functional.
Due to its partnership with Panasonic, the Gigafactory has managed to surpass expectations while also becoming a golden employment opportunity for residents of Nevada. And Tesla has no plans of stopping at just making battery packs at the sprawling facility. Chris Lister, VP- Operations, Tesla Gigafactory said that the Gigafactory is crucial to helping realize the company's mission, one that goes way beyond just electric cars: "advance the world's transition to sustainable energy." Even in its incomplete form, according to Lister, the Gigafactory is one of the company's defining assets.
Tesla already has another Gigafactory in Chicago and Shanghai, and a fourth one is currently under construction in Europe. Why Tesla is important to this story is simply because it is one of the pioneers of modern electric cars. But, why exactly this writer chose to emphasise so much on the American automaker is because Tesla has finally announced its entry into the Indian market by the end of 2019, or early 2020. And that for EV purists, like this writer, is a big deal!
Tesla Coming to India Finally
Who can forget the friendly banter between Indian Prime Minister Narendra Modi and Elon Musk during the former's US visit in 2015. Musk enthusiastically gave a presentation to PM Modi on the development of technologies that are changing the face of the automobile industry. And that enthralled Indians who believed that a major automaker like Tesla could finally set foot in India.
While Tesla's announced entry into the Indian market in late 2019 is a good news for motoring enthusiast around the country, the entry wasn't one which was free from its fair share of problems.
In May 2018, Musk tweeted that he was keen on bringing Tesla to Indian soil, but hadn't already, because of "some challenging government regulations." And then in January 2019, Tesla's Indian American CFO, Deepak Ahuja announced his retirement from the firm which almost ended India's Tesla dream. Sources told ELE Times that it was Elon Musk's desire to bring Tesla to India as early as 2017 and Ahuja was his preferred man for the job. However, after a number of efforts by Ahuja, that dream couldn't be achieved in over two years.
However, the dream lives on and now that Musk has formally announced Tesla's entry to India, there is a good reason to understand of its implications. From Tesla's perspective, the firm is likely to benefit from Indian government's policies focusing on electric vehicles such as Adoption and Manufacture of Hybrid and Electric Vehicles (FAME). And then, due to falling battery prices, the Tesla Model 3 could be sold in India in competition to SUVs like Toyota Fortuner, Hyundai Tucson, and Ford Endeavour, and Mitsubishi Pajero among others. And being vastly superior in terms of the technology and performance than its rivals, the Model 3 might enjoy unprecedented success in the Indian market – a market that is today crowded by millions of aspirational Indians.
From India's perspective, it would be a longshot to assume that Tesla will start manufacturing its cars here simply because we don't have the adequate infrastructure yet to be able to deliver state of the art vehicles that Tesla makes. However, Tesla plans to have a Gigafactory in every country of the continent that if we were to get a Gigafactory like the one in Nevada it could create a lot of employment for the local population. It could also result in meaningful technology transfer and local automakers can adopt a few technologies into their own cars.
The Way Forward
Now that we understand where the Lithium and Cobalt market stand, the Gigafactory's role in the falling of that prices and what all that means for India, it leaves us at the right juncture to assess as to where this road might lead for us. Environmentally, this could prove to be a huge boon as EVs will affect the nature far less than the pollution caused by IC powered vehicles does. In Elon Musk's own word, "electric mobility is important because without it, we'd choke ourselves to death."
Apart from obvious environmental benefits which are paramount in the debate of electric mobility, crumbling battery prices will also breathe fresh air in many developed and developing nations. While India is surely set to miss its target of 100 percent electrification of transport by 2030, the goal can achieved sooner than we all hoped. Then, in developed nations like France, where the state has decided to cut back on diesel powered vehicles, low prices of battery packs can help in bringing the much needed price parity between EVs and its traditional competitors.
And ultimately, all this would help us in getting an idea about just how much better EVs can be than traditional vehicles both in terms of performance and long term sustainability. It is perhaps a moment for the purists, reactionaries, and visionaries to rejoice; after all, it's finally happening!