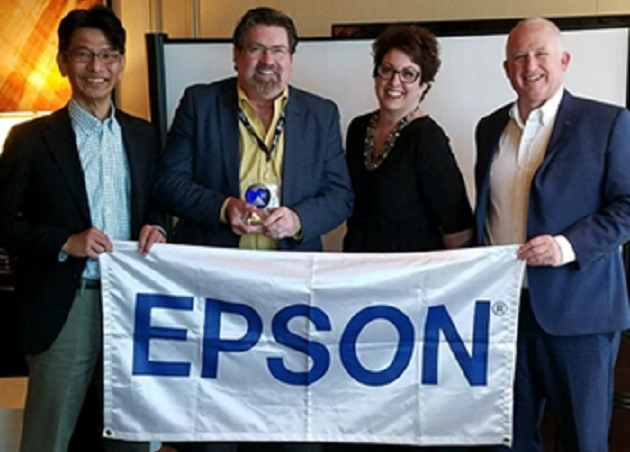 Mouser Electronics, Inc., the industry's leading New Product Introduction (NPI) distributor with the widest selection of semiconductors and electronic components, announced that it received the Greatest Increase in Customer Count 2017 award from Epson America, Inc., a world leader in quartz crystal technology and a leading global supplier of high-performance components, including integrated circuits and crystal-based electronic devices. Epson honored Mouser with the award at the Electronics Distribution Show (EDS), held May 15–18 in Las Vegas.
"Mouser Electronics has consistently delivered outstanding results for us year after year," said  Lisa Liotta-Valine, Distribution Sales Manager for Epson America. "Growing our customer base is important to us, and Mouser was critical to helping us meet our goals for the year. Mouser added impressive numbers of customers in 2017 all the while focusing on sales of our newer products. Mouser's service to our customers and to us at Epson truly is best in class, and this award is well deserved."
"All of us at Mouser thank Epson America for this outstanding award," said Kristin Schuetter, Vice President of Supplier Management at Mouser Electronics. "We are honored to be recognized by such a fine company as Epson, a leader in its field and one of our valued suppliers. Our partnership has indeed grown through the years and has been very beneficial for both of our companies. We greatly appreciate this tribute to our distribution efforts.''
Epson honored Mouser with two awards last year: Best Overall Sales Improvement and Most Increased Customer Count. Epson America Inc., a part of Seiko Epson Corp., is a leading global supplier of high-performance components known for superior quality, functionality, compactness and energy efficiency. Mouser stocks a wide selection of Epson products available for same-day shipping around the world. To learn more, visit mouser.com.