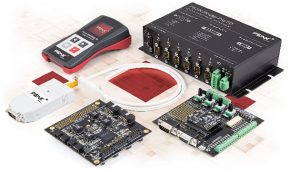 PEAK-System Technik, a manufacturer of hardware and software for CAN, CAN FD, and LIN applications, presents new and upcoming products at the embedded world 2018 in Nuremberg, Germany. After the CAN FD interface PCAN-M.2 for the modern M.2 slot, the stackable plug-in card PCAN-PCI/104-Express FD for PCI/104-Express systems follows having up to four CAN FD channels. For the connection to LIN networks, the company releases the PLIN-USB, an easy-to-use PC USB interface. It supports the LIN protocol according to ISO 17987 and complies with all LIN specifications up to version 2.2.
PEAK-System also shows the brand new PCAN-MicroMod FD plug-in module for developing your own hardware with CAN FD connection and I/O functionality. Various motherboards provide peripherals for specific requirements. An evaluation board facilitates the development of own boards.
Another highlight is the PCAN-Router Pro FD. The router with six CAN FD channels can be individually programmed or configured with Windows software. In addition to forwarding messages and editing the CAN data, the data traffic can also be recorded.
The battery-powered PCAN-MiniDiag FD completes the exhibition appearance. The diagnostic device in practical handy format detects transmission rates, counts error frames, and measures termination as well as busload. Service technicians and developers can quickly gain access to CAN and CAN FD networks and perform inspections.
You will find PEAK-System in hall 1, booth 483.
For more info, visit: www.peak-system.com