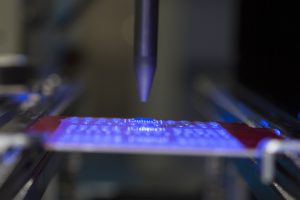 Global electro-chemicals manufacturer, Electrolube, will host live dispensing demonstrations of its revolutionary new 2K two-part conformal coating on a new PVA Delta 8 selective coating system at Productronica 2017 (Messe Munich, November 14-17, Hall A4 Booth 466).  The live demonstrations will enable visitors to experience the ease of dispensing application and see the benefits of this new coating in terms of how it effectively combines the protection and properties of a resin, with the practical application of a coating.  Visitors will see how straightforward the new 2K coatings are to adopt in-line, with a simple two-part feed modification to these popular selective coating systems.
Electrolube works closely with leading selective coating leaders such as Nordsen Asymtek and PVA in order to focus on and reinforce the importance of the method of coating application.  As a brand, Electrolube believes in working closely with the suppliers of equipment utilized by customers. This ensures that the materials developed work perfectly in the user's application process. For example, working collaboratively with PVA over the last 2 years has led to the development of the VPX-2KS spray valve, specially designed for the selective application of solvent-free, 2K coating materials.
Electrolube's technical experts will be running live demos on demand to show the selective application of 2K350 on a Surface Mount Technology (SMT) assembly and will be giving outboards coated with 2K350 to interested visitors. The team will be available to discuss the 2K coating benefits in further detail, as well as answer any questions about equipment, applications, and processes.
Electrolube's new 2K350 solvent-free, polyurethane coating will be used during the demonstrations. The highly flexible new coating is opaque blue for ease of inspection. The UL94V-0 approved coating has an operating range of -40 to +130°C and provides excellent coverage, while its extreme flexibility offers protection even around delicate components. With its hydrophobic formulation, 2K350 provides superior water, salt mist and moisture protection, making it an excellent choice for automotive electronics in particular.
Electrolube will be showcasing a number of new conformal coatings during the show. New products include:
2K550: The new 2K550 is a tough, flexible, high-performance coating, providing a greater coating thickness and enhanced edge coverage. With improved adhesion, hardness and scratch resistance, 2K550 has excellent clarity and resistance to discolouration, humidity, condensation and immersion in water. The new coating also features a fluorescent trace to aid inspection and has a wide operating temperature range.
2K300 Kit: Electrolube has developed a new, unique sample kit for customers wishing to trial the product for prototyping and validation, eliminating the need for specialist machine equipment or downtime. Designed for a single use, the kit comprises a resin kit, dilution fluid and a ready assembled aerosol for dispensing. The highly elastic 2K300 is a solvent-free two-part polyurethane conformal coating, displaying enhanced thermal performance with an operating range of -40 to +150°C.
2K850: The breakthrough product, 2K850, offers major advantages over the first generation of single part UV cure coatings, particularly relating to issues with coatings cracking during thermal shock, or requiring an extended moisture cure processes to reach final properties. This robust alternative solution uses customers' existing production equipment with the minimal addition of a 2K fluid system. This exciting innovation combines the features and benefits of the 2K system, with the speed and convenience of UV cure, enabling an immediate tack-free coating with rapid development of full properties.
Ron Jakeman, Managing Director of Electrolube, comments, "Electrolube is fast becoming the go-to resource for specialist technical solutions that solve customers' manufacturing problems and help them bring high-quality products to market faster. We are excited to be launching some of the most advanced conformal coating solutions on the market at Productronica and look forward to engaging with visitors on the stand and at the live demonstrations. "
Visitors to Productronica 2017 are invited to meet the Electrolube team in Hall A4 of the Messe München, Booth 466. For further information, please visit http://www.electrolube.com.