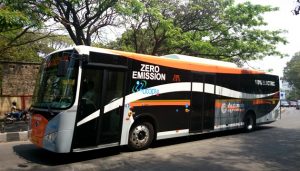 State-run Energy Efficiency Services Ltd (EESL) will soon float another global tender for 10,000 electric vehicles to be deployed across the country for government use, a senior executive has said.
EESL, which is a joint venture of PSUs under the power ministry, will also sign a memorandum of understanding (MoU) with the government of Andhra Pradesh this week to supply 10,000 E-Vehicles.
"There is interest in our electric vehicle programme from virtually all parts of the country, and it's because we have been able to provide a value proposition like no other," said Saurabh Kumar, managing director at EESL.
While there is demand coming in from various states, the vehicles to be supplied to Andhra government will be delivered from the lot procured through this fresh tender, which is expected to be floated around April.
The Gujarat government has aggregated a demand of some 4,000-odd vehicles and Maharashtra for 2,000 vehicles, Kumar said.
With two global tenders of 10,000 electric vehicles each in less than a year, Kumar said there has been enough interest from the state and central governments on adoption of e-mobility and making it mainstream.
In the previous E-Vehicles tender, which EESL floated in August last year, Tata Motors and Mahindra & Mahindra emerged as the lowest bidders. Kumar said he expects a wider participation from companies in the second tender.
Tata Motors had quoted Rs 11.2 lakh for each car including GST, which was matched by Mahindra, in the first phase of procuring 500 vehicles.
Kumar expects Mahindra to match Tata's price for the second phase of the last tender also. "I am not sure if the prices will come down in the next tender, but I would expect them to not go up also," Kumar said.
The timeline on the procurement of cars from the fresh tender will depend on the manufacturing capacity of the automakers, he said.