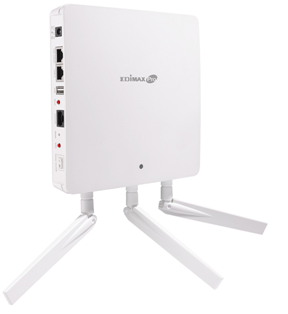 IEEE 802.11ac concurrent dual-band with 1750Mbps wireless speed ideal for crowded and BYOD environs
Edimax Technology, a leading provider of premier networking solutions introduces WAP 1750 a high performing, reliable and secure enterprise-grade Wi-Fi access point designed to SMBs of high-density environments. Edimax WAP 1750 features enterprise-grade build quality, 3×3 MIMO, intuitive web-based Network Management Suite (NMS) and an extensive feature set. It makes an ideal high-performance dual-band solution for demanding day-to-day operations at SMBs, schools, campuses, hotels, hospitals or BYOD workplaces.
Global market research firm MarketsandMarkets says that the Power over Ethernet (PoE) controller market was valued at USD 0.45 Billion in 2015 and is predicts to reach USD 1.04 Billion by 2022, at a CAGR of 12.56% during the forecast period.The power over Ethernet solutions market is led by the commercial vertical, which is further segmented into office buildings, healthcare, retail and others. The high demand for PoE technology-based products from office buildings, especially for connectivity and security & access control applications is one of the major factors driving the growth of PoE solutions market for the commercial vertical.
"WAP 1750 is an unmatched choice when it comes to secure, high-capacity, high-density 11ac Wi-Fi solutions. Loaded with features such as 802.11ac Wi-Fi technology, enhanced transmitting power and receive sensitivity, this solution will increase the scope of coverage; improve access density and operation stability to increase business productivity. It is an exceptional option for businesses facing challenges with invasion of BYOD devices, by delivering best-in-class performance and reliability at competitive price range," said Sanjay Joshi, Country Manager at Edimax Technology.
Edimax Pro WAP 1750 access points support fast roaming. That means wireless devices can roam smoothly between multiple access points without the need to re-login. This minimizes network overheads and ensures best performance for wireless clients, whose wireless applications such as video streaming or voice applications will not be interrupted or delayed. Keeping devices connected is essential and delays or connectivity issues can be costly for businesses. Fast roaming ensures a smooth wireless experience throughout an entire organization, across rooms, departments and even different floors. Typical wireless access points can effectively cover a 25m – 30m radius under normal usage. Now with the technological advances in Edimax Pro WAP 1750 access point, we can extend effective coverage approximately 1.5x further, eliminating Wi-Fi dead zones completely and providing blanket coverage across enterprise environments. Wireless devices can stay seamlessly connected in environments where connectivity maybe a critical component of efficiency and productivity. Businesses also get benefit from mobility with high-speed connectivity across a range of wireless devices such as smartphones, tablets and computers throughout an entire organization.
Price, Availability & Warranty
WAP 1750 3 x 3 AC Dual-Band Wall-Mount PoE Access Point comes with MRP of Rs.34,000/- and is available with Edimax India and its Regional Distributors carrying the warranty of 1 year. 
Contact Edimax India team for more offers on WAP 1750*
*Applicable only for partners