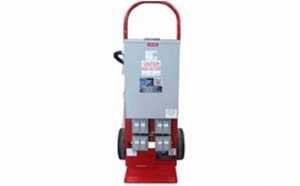 Larson Electronics, an establishment with expertise in industrial lighting products and portable power distribution stations for the industrial sector, announced the release of a dolly cart-mounted portable power distribution panel with receptacle outputs. This system offers compatibility with three-phase 208Y/120V and provides access to nine receptacles for temporary power distribution.
The MGP-208Y.120V-60A-3PH-1X60A-8X20A-50C can be used to power equipment from various sources, such as generators and grid power. Operators may bring 208Y/120V input power using 50-feet of 6/5 SOOW line-in cord with a blunt-cut end into the NEMA 3R rated panel. The 60-amp main breaker panel, which is protected by a 60-amp breaker, consists of one, 60-amp 3-pole 208Y breaker protecting one, 125/250V pin and sleeve 460R12W receptacle for 208Y equipment and eight, 20-amp 1-pole 125V breakers protecting eight, 20-amp 5-20R 125V GFCI duplex receptacles for 120V equipment. All outlets are protected by weatherproof covers.
The entire system is mounted on a slim, upright dolly cart for ease of transportation around the site. Constructed of steel and powder coated for protection from outdoor elements, the cart contains a top-located handle and a cord wrap for storing cables. A visible 'High Voltage' cautionary sign on the opening of the power distribution panel ensures safe use.
Applications for the 60-amp 208Y/120V portable power distribution panel includes the following: maintenance, plant turnarounds, MRO, repair work, remote facilities, extending electrical connections, emergency campsites, manufacturing sites, data centers and more. Explosion proof models for hazardous locations and for use where combustible substances are present in the environment are available upon request (cost, builds and configurations may vary to cater to explosion proof standards).
For maximum compatibility, Larson Electronics, as a UL 1640 panel shop, can customize this power distribution station to accommodate the power requirements of projects. Examples of customization: voltage, phase (single or three), panel configuration, transformer size, wiring configuration, panel ratings, mounting and more.