Producing individualized goods fast and efficiently, the growing demand for sustainability and the increasing impact of globalization on supply chains: The challenges that today's industry is facing are demanding – and rapidly changing. To master these challenges safely and successfully companies need to adapt fast and above all they need to be resilient. But how can the factory of the future acquire this resilience?
Recent events have shown that the number of unpredictable incidents is increasing and that many companies struggle to respond to them. Today more than ever, being resilient is the most important quality for companies, their employees, and their production systems. They must be capable of surviving difficult situations and disruptive events unscathed, retain their value-creating capacity, and be able to restart quickly. They must learn and gain strength from such experiences because that's the only way they can remain competitive. It's essential that all a company's important resources become more resilient. On one hand, they need to invest in new, robust equipment and innovative technologies. On the other, companies also need to focus on individual employees. The growing shortage of skilled workers and the increasing demands on employees make it more and more important to create a pleasant working environment for workers and to enable and empower them for more complex tasks.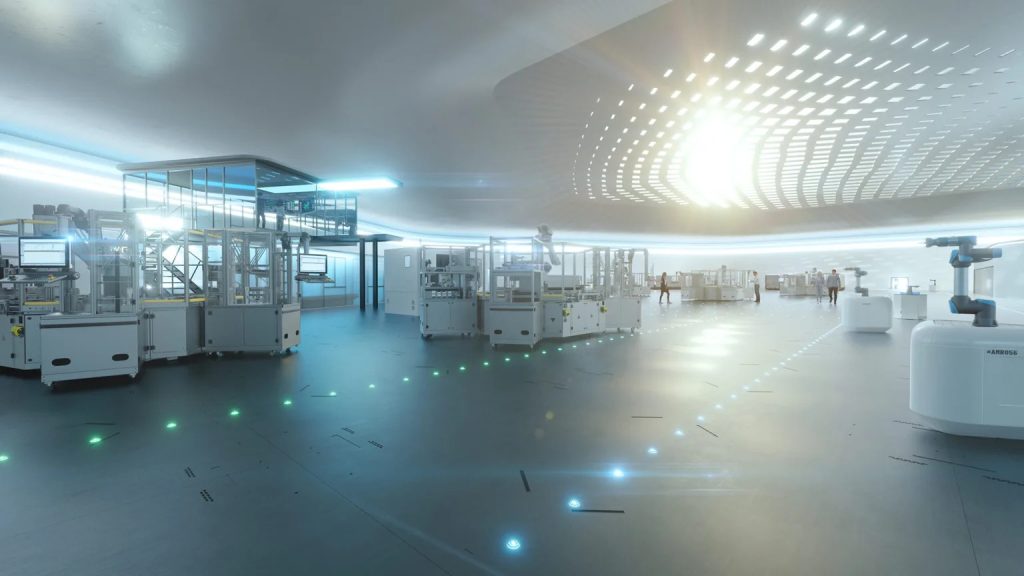 The autonomous factory of the future must be flexible, resilient and sustainable.
For the production we see the autonomous factory of the future as the solution. It will be flexible, resilient, and sustainable. It will be equipped with the latest advanced applications like flexible handling of materials and self-driving robots; the entire supply chain will be interconnected; and ongoing optimizations will occur automatically via intelligent machines. Advanced safety features will be needed that ensure safe collaborations between humans and machines. Production itself will be highly automated and nearly independent of human assistance. I'd like to emphasize the word "nearly," because our vision of the autonomous factory is designed by and for people! While production is self-organized, developers and service staff will be needed to maintain the functionality of the machines and systems and to implement optimization potentials. In the intelligent production of the future, people will have the opportunity to get away from repetitive, inconvenient tasks and be able to focus completely on core human competencies. Because after all, we're practically invincible when it comes to creativity and problem-solving!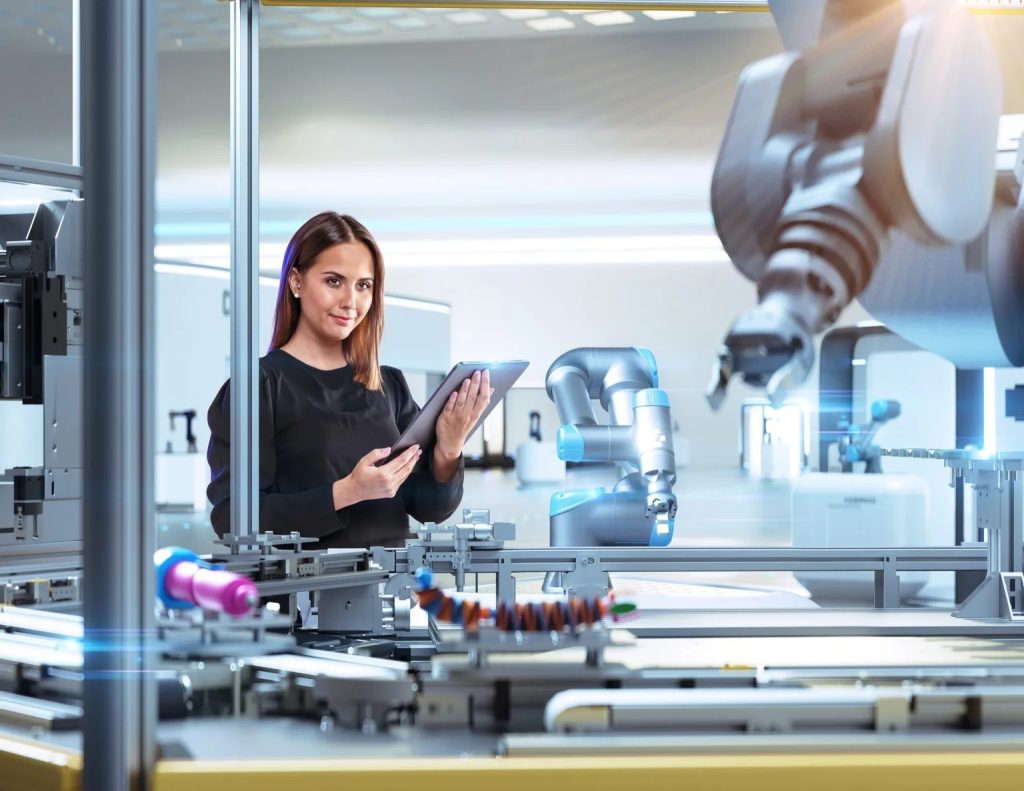 In future factories it is all about the interplay between artificial and human intelligence
Even robust AI applications can reach their limits when it comes to decision-making in special unforeseen situations; they'll always need the problem-solving capabilities of the machine operator for making critical decisions. An autonomous factory also needs human inventiveness to develop new solutions and meet the new challenges associated with the industry of the future. There's no AI in the world that will be able to replace this kind of ingenuity. To create space for employees to concentrate on their core competencies, they have to be freed from certain work. Today, many highly trained specialists still perform monotonous, repetitive, and even dangerous tasks over long periods of time – tasks that are both physically and mentally demanding. Forward-looking technologies in the autonomous factory – like artificial intelligence – can help counteract the shortage of skilled workers and create new incentives for working in industrial manufacturing. It's a win-win situation because smart machines can perform tedious, repetitive tasks more efficiently and accurately than people – while at the same time relieving them of monotonous tasks, so they have more capacity for creative work and development processes. I believe that continuously optimizing processes in our future factories is all about the interplay between artificial and human intelligence.
Co-creation turns future-oriented ideas into reality
There are already many highly automated productions today, but on the long run there's no getting around the vision of the autonomous factory. One of the biggest challenges on this journey is "ambidexterity," which describes the balance between optimizing the core business and exploring disruptive areas around it. A crucial point for companies to acquire new exploration areas is to initiate co-visioning processes with customers, as part of a holistic innovation framework. Listening to our customer's needs and working with them at an early stage to find sustainable, customer-centric solutions is crucial for us. Only by receiving their feedback, by understanding the purpose, we can transform future-oriented ideas into reality.
That's why, for example, our internal innovation units seek early exchange with customers and test initial solutions, exchange ideas and experiment together to develop an industrial-grade, scalable solution in a shorter time. One of our incubator teams, for instance, is currently developing a perception-based machine learning application portfolio for industrial robots with a pilot customer. Today robots are used to perform a variety of tasks, using fixed pre-programmed routines, across diverse industries. Although they're fast, precise, and reliable, they still find complex environments and the act of flexibly gripping different objects to be challenging. I say "still" because artificial intelligence is one key to overcoming these challenges. Instead of following predefined routines, advanced robotic systems today are increasingly using 3D vision and, more importantly, are recently starting to be trained by machine learning to solve generic problems – such as picking or placing any object. However, today only very few masters this technology to automate reliably. The potential is especially high for AI-enabled robotics applications in retail and e-commerce, pharmacy and food and beverage industry. The teams work in a customer-oriented manner throughout so that it can sometimes happen that ideas from the teams are "discarded" or steered in a completely new direction. This requires a rethink in the innovation process and the teams themselves but creates an incredible amount of potential for future solutions to truly create "technology with purpose".
Resilience is the key to future success
Not only innovation work requires a new mindset, but it is also needed for nothing less than, the future of industry. In the future, we'll have to deal with faults much more openly and learn from them. Openness and flexibility are also needed to make factories resilient against the storms caused by disrupted supply chains and material shortage. In the production itself self-organizing and self-optimizing material flows and production areas will ensure a rapid response – in real time, in the best case – to rapidly changing circumstances and requirements – and companies will experience the highest levels of efficiency, flexibility, quality, and sustainability in their production.  That' s what we combine in our vision of the autonomous factory – designed by and for people.