Anteriorly process automation, There has been a time when plant operators have to physically monitor performance values and the quality of outputs to determine the best settings on which to run the production equipment. Maintenance is carried out at set intervals. This generally results in operational inefficiency and unsafe operating conditions.
Today, automation typically decreases the need for human deliberation or exertion while performing a task. Automated actions respond immediately to an earlier action. Process automation involves using sensors, actuators, computer technology and software engineering to help power plants and factories in industries as diverse as paper, mining and cement operate more efficiently and safely. It is not only making the things go handy and accessible, it also saves a lot of expenditure which were earlier spent on wear & tear of equipment.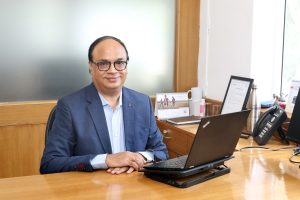 Process Automation and Robotics automation is the technology which is adopted by major industries. Being such an apt and debating topic, our ELE Times Sub Editor & Correspondent Sheeba Chauhan conducted "An Industrial Case Study on Process Automation" with the assistance of Manoj Soni – Vice President & Head Business Excellence, Hindustan Zinc Limited
AI – an Aid to Robotics Process Automation
With the latest technologies like artificial intelligence, machine learning, speech recognition, and natural language processing, robotic process automation (RPA) will take automation to a whole new level. Businesses can benefit from more intelligent automation by modelling software and processes that resemble human decision-making when AI and RPA are coupled. Customized Robotic Process Automation systems incorporate human-like intelligence into the process workflow using AI, cognitive technologies, and Machine Learning (ML) based information processing to respond to business demands.
Consider a traditional chat bot that we see on many support sites today doing customer service; after 3 to 4 questions, it goes into a loop or you find it irritating and would rather call a customer; with more AI in these bots and a cognitive tech combination, the end user experience will be more human and you won't get stuck in loops or end up shutting the bot down. Advanced AI-enabled bots will undoubtedly assist RPA in progressing to the next level.
When AI and robotics are integrated, productivity increases and the transition from traditional knowledge to human-like intelligence is made. Many industries, including finance, telecommunications, manufacturing, government, retail, utilities, automotive, energy, transportation, and many more, have examined robotic process automation as part of their digital transformation journey. Mining companies all over the world are increasingly incorporating artificial intelligence and process automation into their current operations.
Robotics Process Automation Vs. Process Automation
To automate specific business process operations, process automation traditionally relies on integration and interaction with different systems via APIs or other similar mechanisms. In process automation, RPA combines bots and user interfaces in tandem to complete rule-based activities. RPA is more modular and uses bots to comprehend the Human interface, whereas traditional process automation is primarily reliant on coding.
RPA is widely used for repetitive operations that require little or no human intervention. Normal process automation, on the other hand, necessitates ongoing IT intervention. RPA allows for a great level of customisation, allowing bots to be built for specific user or process needs and delivering precise results.
Both process automation and robotics process automation require selecting the optimum technology combinations to automate a company's various processes. Workflow, integration, and price are three key features that separate process automation from robotic process automation. Traditional process automation will always be needed for multisystem interfaces and automation integrations, while RPA will continue to evolve with AI, ML, and other improvements.
Organizational Benefits from Process Automation
In recent years, the enterprise software market has experienced the fastest growth in process automation, which uses numerous technologies to increase efficiency and improve a company's bottom line. Operational automation has a number of benefits, including cost savings, productivity, availability, dependability, and performance. The advantages of process automation in the workplace are numerous.
Cost savings – It lowers operational costs while improving task execution, development, and support speed and reliability.
It increases productivity – By delegating time-consuming tasks to a digital solution, multiple activities can be completed at once. Productivity rises as a result.
It boosts productivity – It's not a matter of whether or not your employees are capable and skilled. Making errors is an unavoidable aspect of life. It's impossible to avoid manual errors, inefficiencies, and time delays. Errors are decreased, resulting in a smoother process and a reduction in the requirement for redundant processes. As a result, when processes are automated, the chance of errors is greatly reduced.
Process automation can increase operational efficiency by reducing the amount of work required in processes and/or cutting payroll costs by reducing the need for additional people as operations grow.
Boost productivity by speeding up operations and reducing repetitions.
Hindustan Zinc has led the way in the implementation of these technologies. These technologies have the potential to upend current business models while also cutting costs and improving operational efficiency. Hindustan Zinc has always been a technology leader and will continue to remain so.
Product Automation as a part of Process Automation and Possible Challenges
In the context of smart manufacturing, which is where IR 4.0 is leading us, product automation is more of a byproduct of process automation. The use of analytics and RPA in process automation is assisting us in improving and automating processes solely to better the end product. Smart manufacturing, in the end, brings us the need for agile product lines, and process automation is helping us get there.
The obstacles would be the level of involvement that can be avoided in a real-world scenario, the diversity of the need for unique bots for various operations, and how agile the automation can be to meet the scale of the requirement.
Recent Trends in Process Automation
Automation has reached a tipping point with breakthroughs in artificial intelligence (AI) and robotics technologies. Robots are capable of doing a wide range of jobs with little or no human assistance. Automated technologies not only do repetitive tasks, but they also vastly improve workforce capabilities. In fact, automated gadgets are expected to replace approximately half of the global workforce. More businesses are turning to process automation to help them recover in 2022, and the technology's relevance is expanding. Manufacturing and banking are two businesses that have embraced automation to boost productivity, safety, profitability, and quality. Automation will increase connectivity and reliability in an increasingly competitive economy. I believe that the future of automation will be distinguished by quick access to all information.
Process Automation – a Way Forward to Cleantech
Automation is, without a doubt, the way to go in cleantech. Cleantech will result from any automation that improves efficiency.
Smart manufacturing and controlled RPA trends are resulting in benefits such as reduced waste generation, shorter cycle times and higher productivity, reduced shop floor requirements, and optimal resource use, all of which result in lower carbon footprints and GHG emissions.
Indulgences of Virtualization
Virtualization technology has been adopted at a higher rate than expected. As the corporate landscape changes, companies are understanding the power of technology to link scattered global talent. Telehealth and virtual learning are two of the most important advantages of virtualization. Virtualization technology can help manufacturing become more efficient, with benefits such as decreased energy use, faster application load times, disaster recovery, and optimized procedures and workflows.
Sheeba Chauhan | Sub Editor | ELE Times